Hillary Clinton maps out position
With divisions in the Democratic Party on full display nationwide, Senator Hillary Rodham Clinton sought to stake out the center in Denver on Monday, issuing a broad policy platform geared toward helping middle-class voters and the working poor through a series of tax credits and other modest government programs.
Titled the "American Dream Initiative," Clinton's 20-page plan was the culmination of a year-long project she led at the Democratic Leadership Council, the group of moderate Democrats that helped start her husband's presidential bid in 1991.
"To paraphrase the 1992 campaign: It's the American dream, stupid," Clinton said in her keynote address at the council's convention, a reference to her husband's "It's the economy, stupid" refrain from his first race.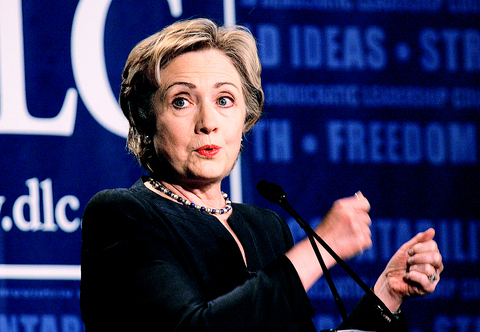 US Senator Hillary Rodham Clinton addresses the Democratic Leadership Council's ``National Conversation'' in Denver, Colorado, on Monday.
PHOTO: AP
Clinton, who leads many polls for the Democratic presidential nomination in 2008, continued: "Democrats stand ready to lead again. Now all we have to do is win elections."
The council, which gained prominence by advocating a "third way" of governing from the middle of the political spectrum, has in recent years become a target for liberals who say the party establishment has sold out its core values, refused to stand up against Republicans and lost two successive presidential polls in the process.
But at the two-day convention, participants harked back to the Bill Clinton era as a model for winning elections and governing, and debated how to reunite the Democratic Party.
In addition to Clinton, other possible presidential contenders, including Senator Evan Bayh of Indiana and governors Tom Vilsack of Iowa and Bill Richardson of New Mexico, also made appearances.
In her address, Clinton mapped out a program of relatively small-scale initiatives she said would help middle-class voters regain the financial stability they had lost during the Bush presidency and help the poor in moving up the economic ladder.
Among her proposals are a US$3,000 college tax credit; "baby bonds" that would deliver a US$500 savings bond to every child at birth and age 10; an expansion of the home mortgage tax deduction to low-income people who do not itemize their tax returns; and "American dream accounts" requiring firms with five or more employees to provide traditional retirement benefits or the option for workers to save through 401(k) accounts.
She also called for a freeze on raises in Congress and at the White House "until the incomes of average Americans start to rise again."
Comments will be moderated. Keep comments relevant to the article. Remarks containing abusive and obscene language, personal attacks of any kind or promotion will be removed and the user banned. Final decision will be at the discretion of the Taipei Times.