Panama approves canal's expansion
Panama's National Assembly on Friday approved legislation authorizing a US$5.25 billion expansion of its strategic canal to accommodate new super container ships.
The legislation, which also authorizes a referendum on the proposed expansion to be held within the next three months, was approved after two weeks of intense debate.
Polls show that 65 percent of Panamanian voters support the project.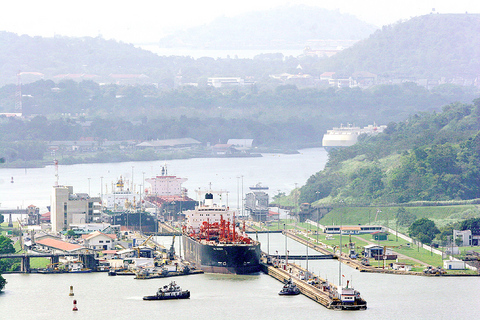 An aerial view of Panama Canal's Miraflores locks taken on April 21.
PHOTO: AFP
The 77km canal plays a vital role in global trade as a link between Asia and the east coast of the US and Europe.
The government of President Martin Torrijos says the changes are needed so that the canal can handle a new generation of ships with a capacity of up to 10,000 containers, against a current limit of 4,000.
The plan calls for a new set of giant locks, measuring more than 50m wide, to create a third lane of traffic that is capable of handling wider loads.
Opponents of the project say it is too expensive and that by 2014-2015, when it is finished, it will still not meet market needs.
Opponents say new terminals to carry containers should be built instead at each end of the canal.
Work on the canal began in the 1880s under French leadership but was completed by the US and opened in 1914.
Comments will be moderated. Keep comments relevant to the article. Remarks containing abusive and obscene language, personal attacks of any kind or promotion will be removed and the user banned. Final decision will be at the discretion of the Taipei Times.