Bush approves US$80 million fund for Cuba
`COUNTER-REVOLUTIONARY' The US aims to `build support for transition to a legitimate democratic government' in Cuba and has put its money where its mouth is
US President George W. Bush on Monday approved an additional US$80 million to help foster Cuban democracy and pressure Cuban President Fidel Castro, whose government called the effort "embarrassing."
In a statement, Bush said he had approved a "compact" with the people of Cuba "as they transition from the repressive control of the Castro regime to freedom and a genuine democracy."
Bush also accepted the recommendations of the US Commission for Assistance to a Free Cuba, a panel led by Secretary of State Condoleezza Rice and Commerce Secretary Carlos Gutierrez, which included the US$80 million expenditure over two years.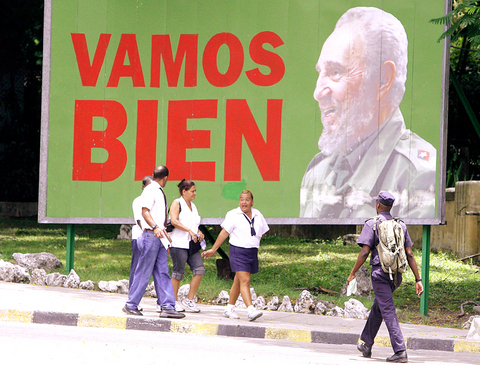 Cubans walk past a billboard showing a photo of Cuban President Fidel Castro that reads ``We're doing fine'' in Havana on Saturday. A US presidential commission on Monday urged Washington to spend US$80 million to help nongovernment groups in Cuba and to break the communist government's ``blockade'' on outside information.
PHOTO: AP
`Working for change'
"The report demonstrates that we are actively working for change in Cuba, not simply waiting for change," Bush said.
The new program, called a "Compact with the People of Cuba," adds the US$80 million to the more than US$70 million already slated over 2007-2008 to "build support for transition to a legitimate, democratic government," a separate White House statement said.
Some of the money, which must gain approval from Congress, will provide "uncensored information" via conventional and satellite radio and television broadcasts as well as the Internet.
Funds will also be used for "strengthening democratic movements," the statement said, and to "undermine [Castro] regime finances and survival strategies."
In Cuba, an official television commentary said, "The Bush administration just approved a US$80 million plan to finance counter-revolutionary cells in their service on the island" of Cuba.
"The arrogant and embarrassing decision seeks to topple a legitimate government in open contempt of the most elemental norms of law and international relations," the commentary said.
The US has been at loggerheads with Castro since he came to power in 1959. Castro turns 80 next month as the Communist country weathers four decades of US economic sanctions and diplomatic pressure.
Rice said on Monday that the additional funding and the report's recommendations "reflect American resolve to keep pace with Cuba's brave opposition leaders and to encourage those Cubans still silent out of fear but free in their hearts and minds to dream of a better future for their families and their nation."
`Assistance'
"We are laying the groundwork to offer specific assistance for a democratic transition in Cuba," Rice said.
In Havana, dissidents gave a lukewarm welcome to the expanded US program, expressing fear it could compromise their movement's independence.
"I have no doubt about the intentions of the report's editors, but I believe it is another example of Washington's views and initiatives on Cuba that have a rather counter-productive effect," Elizardo Sanchez, a human rights activist on the island, said.
Dissident economist Oscar Espinosa Chepe, given a 20-year jail sentence in 2003 but subsequently freed for reasons of health , said, "We are not in absolute accord with any foreign government's views on what Cubans must do."
"I believe Cubans have to be the ones who solve our problems, and any interference serves to complicate the situation," Chepe said.
"We are thankful for the solidarity we have received from North America, Europe and elsewhere, but we request that they do not meddle in our country," he said.
Comments will be moderated. Keep comments relevant to the article. Remarks containing abusive and obscene language, personal attacks of any kind or promotion will be removed and the user banned. Final decision will be at the discretion of the Taipei Times.