Police arrest suspect in family killings
TRAGEDY Police enlisted the public's help in their hunt for the other suspect in the presumed robbery-murder of a family of seven, including three children, in Indiana
Seven members of a family, including three children found in a bed together, were shot and killed in their home here on Thursday night in what the police believe began as an attempted robbery. At least two people were being sought in the killings.
The police said on Friday that they had arrested one suspect in the shootings, James Stewart, 30, of Indianapolis, and planned to charge him with murder.
They were asking for the public's help in finding a second suspect, Desmond Turner, 28, also of Indianapolis.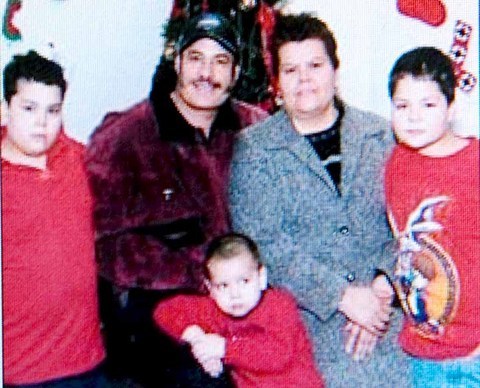 Five of the seven family members killed on Thursday in Indianapolis are shown in this undated photo. Alberto Covarrubias and Emma Valdez, center, are pictured with their sons, Alberto, left, and David, right, and grandson Luis Albarran.
PHOTO: EPA
Officers responded just after 10pm on Thursday to a report that shots had been fired at the home in the Near Eastside section of the city. They found three children ages five to 11 and four adults shot to death.
Chief Mike Spears of the Indianapolis Police said the motive appeared to be robbery. Turner may have known at least one member of the family and had a last known address within a couple of kilometers of the home, he said.
According to police, a witness said one of the victims, Flora Albarran, 22, came to the home to pick up her five-year-old son, Luis, and immediately started screaming when she entered the house, yelling: "Don't do that! My child!" The witness, a friend of Albarran's who was waiting for her in a car, then heard gunshots inside the house.
The other victims were identified as Alberto Covarrubias, 56; his wife, Emma Valdez, 46; their children, Alberto Covarrubias, 11; and David Covarrubias, 8 or 9; and Valdez' son, Magno Albarran, 29. Ms. Albarran, the daughter of Valdez, had been living at the house until Thursday, but had just moved into an apartment with Luis that day.
That witness reported seeing three or four men running from the back of the house and another witness identified Turner as having been involved in the crime, police said.
Turner has convictions for crimes including battery, possession of cocaine and carrying a handgun without a license, police said.
A neighbor, Shirley Higgins, 49, said a 16-year-old friend of Turner told the suspect on Thursday that the family kept US$42,000 in a safe in their modest two-story house.
Higgins said she was friends with the 16-year-old's mother, who told her of the conversation and said the boy had been talking to the police all day. She did not want to identify them because she feared for their safety.
"That Desmond kid told him he needed some fast cash," she said. "It's just sad that that family got killed over something so senseless."
Higgins said the family of the 16-year-old and the family that was killed began feuding about two years ago over a woman and had been fighting about "silly stuff" ever since.
She said Covarrubias was a "wealthy" landlord, and his wife, Valdez, worked at an industrial laundry service and cleaned houses.
Matthew Mount, a police spokesman, said he was not aware of any reports of a large sum of money in the house. Mount said that there was no evidence of drug activity in the house and that none of the family members had criminal histories.
The well-kept home is located on a rundown street, with boarded-up houses nearby, overgrown yards and trash on the sidewalks.
Several neighbors said drug activity, prostitution, robberies and gang activity were common in the area. They described the family as quiet and friendly and said Valdez walked her two children, Alberto and David, to school every day.
"It is horrific," said Mayor Bart Peterson, who added that he could not remember murders of such a mass scale in the city.
"Out of tragedy, let's find a reason to hope and to work together and make sure that this doesn't serve as an excuse for anybody for further violent acts," he said.
Comments will be moderated. Keep comments relevant to the article. Remarks containing abusive and obscene language, personal attacks of any kind or promotion will be removed and the user banned. Final decision will be at the discretion of the Taipei Times.