Turkey, Iran send troops, artillery to border with Iraq
WARNING Ankara and Tehran are concerned that Iraq's Kurdish zone is serving as a support base for Kurds in their own countries and have moved to seal the border
Hundreds of Kurds had to flee their homes in the mountain village of Razqa, Iraq, when artillery shells came whistling down from Iran early this month, blowing apart their homes and livestock.
In Turkey, meanwhile, armored personnel carriers and tanks rumble along its remote border with Iraq's Kurdish zone. Turkey has sent tens of thousands of fresh soldiers in the last few weeks to beef up an already formidable force there.
The Kurdish provinces of northern Iraq are the country's most stable and prosperous area. But to neighboring Iran and Turkey, both with large Kurdish minorities, they are something else: an inspiration and a support base for the Kurdish militants in their own countries.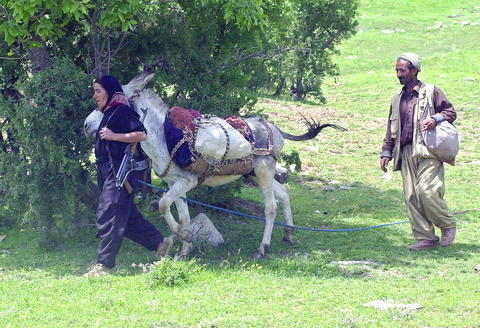 A Kurdish couple flee to a safer place after Iranian forces fired artillery across the border in the Razgan area of Iraq on Tuesday. The attack caused no casualties but forced some families to move. Iran and Turkey see the Kurdish provinces of northern Iraq as a support base for Kurdish militants in their own countries.
PHOTO: AP
So Iran and Turkey are sending troops, tanks and artillery to the frontier to seal off the borders and send a message: If the US-backed Iraqi government doesn't clamp down on Kurdish guerrillas who use Iraq as a base, they could do it themselves.
That has left the US in a quandary. If US forces take action, they risk alienating Iraqi Kurds, the most pro-US group in the region. And if they don't, they risk increased tensions -- and possibly worse -- with two powerful rivals.
Just listen to Turkish Foreign Minister Abdullah Gul.
"We would not hesitate to take every kind of measures when our security is at stake," Gul said when asked whether Turkish troops might cross into Iraq. "The United States best understands Turkey's position. Everybody knows what they can do when they feel their security is threatened."
Iran's artillery barrages could be warning shots, a crackdown on Kurdish guerrillas now is a factor in the wrangling with the US over Tehran's nuclear program.
Kurds, who make up 14 percent of Iran's population, have long complained of discrimination in Iran. Iraq's Kurds backed the US invasion of their country. Would the Kurds of Iran take the US side if tensions escalated there?
"The Iranians are clearly very concerned over the mobilization of their own Kurdish minority," said Toby Dodge, an Iraq expert at Queen Mary College, University of London.
And Tehran may also be flexing its muscles to remind Washington that it shares a long border with Iraq, and could cause serious problems there for the US.
The Iranians' policy is to warn that "we have the potential to run you out of Iraq if you don't give us some slack over the nuclear issue," Dodge said.
The traditional Kurdish region spans Iran, Iraq, Turkey and Syria and the guerrillas are based in a mountain range of northern Iraq that stretches into Turkey and Syria. They seem determined to keep up their decades-long struggle.
Kurdish guerrillas of the Party of Free Life of Kurdistan, or PEJAK, have called on Kurds in western Iran to begin a campaign of civil disobedience. In clashes with Iranian security forces last year, dozens of PEJAK fighters and about a dozen Iranian soldiers were killed, according to official Iranian reports.
This year, more than a dozen members of Turkish security forces in southern Turkey have been killed fighting Kurdish guerrillas of the Kurdistan Workers Party, or PKK, which is closely allied with PEJAK.
After Iran shelled a village used by Kurdish guerrillas, the PKK warned that it was "capable of responding to these attacks with more strength then ever."
Comments will be moderated. Keep comments relevant to the article. Remarks containing abusive and obscene language, personal attacks of any kind or promotion will be removed and the user banned. Final decision will be at the discretion of the Taipei Times.