Hundreds jailed in Belarus crackdown
QUASHED PROTESTS Opposition activists and one of their leaders were in jail yesterday after the Belarusian authorities used force against peaceful demonstrators
Hundreds of Belarusian opposition activists were still in jail yesterday, and the location of one of their top leaders remained unknown one day after mass crackdowns by the government.
The bulk of the detainees were, according to eyewitnesses, being transported to the infamous Uruchie prison outside Minsk, a detention facility run by the Belarusian KGB, and site of the disappearance of opposition activists in previous years.
Aleksandr Kozulin, the No. 2 man in Belarus' opposition movement against authoritarian President Aleksander Lukashenko, was not present in any known prison facility in the Minsk region, his wife told reporters.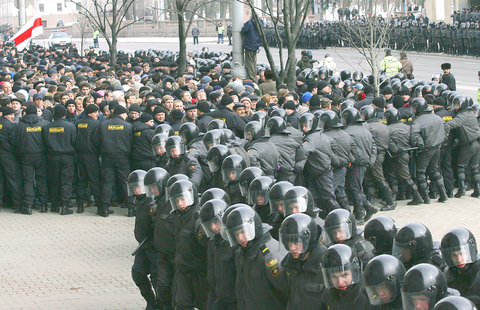 Belarus riot police seal off streets from opposition supporters in Minsk on Saturday.
PHOTO: AP
"In every prison that we have checked we have been told that Kozulin is not there," an opposition official told the Belapan news agency.
The Minsk prison system reportedly was overwhelmed by the need to process hundreds of detainees. Milinkevich estimated the number of people arrested in a Saturday melee fought through the streets of the Belarusian capital as "over 1,000."
Lukashenko on Saturday ordered police to use force to break up the protests, begun one week ago after the former collective farm boss was re-elected president in a vote condemned by the international community as fraudulent.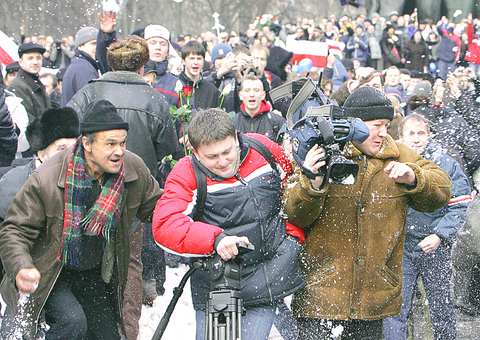 Belarus opposition supporters attack a TV crew of the national Belarus channel during a rally in Minsk on Saturday.
PHOTO: AFP
Meanwhile, Milinkevich yesterday called for a temporary halt to protests. He told Russia's Itar-Tass news agency on Saturday that the opposition hoped to mobilize at least 200,000 for fresh protests, but this would require a "strong emotional impulse."
Witnesses said police arrested hundreds of people, including Kozulin, as they charged an anti-government rally in Minsk on Saturday, using clubs and smoke grenades.
Police combed downtown Minsk for hours for opponents of Lukaschenko. Several were cornered and beaten at a department store as customers looked on, then dragged to a police van.
The assault took place near the Opera Theatre building, where demonstrators gathered following a failed attempt to reach central October Square.
The violence ended six days of peaceful anti-government demonstrations, begun last Sunday after Lukashenko won re-election in a poll the West has called fraudulent.
Initial reports that Milinkevich was among those arrested turned out to be false. In his remarks to Itar-Tass late on Saturday, Milinkevich accused the police of using disproportionate force.
The US State Department condemned the crackdown and demanded that Belarusian authorities release all arrested activists, saying they were exercising legitimate democratic rights.
German Foreign Minister Frank-Walter Steinmeier also urged the release of all protestors and specifically cited Kozulin.
Kozulin was beaten by police before submitting to detention and being hauled off, witnesses said.
He was leading an estimated 1,500 demonstrators to a Minsk jail in what he said was an attempt to free previously arrested opposition activists. Police charged the crowd in order to stop its movement, witnesses said.
Belarusian Interior Minister Vladimir Naumov defended the crackdown, claiming that Kozulin had called for Lukashenko's violent overthrow.
Naumov said eight police officers and one demonstrator were injured.
Milinkevich, the loser in Sun-day's lopsided election contest, had called for the demonstration to mark a short-lived Belarusian republic founded in March 1918. Lukashenko banned rallies on the day after he came to power in 1994.
Up to 4,000 anti-government protestors had gathered in central Minsk before the police assault. Pedestrians and bystanders at some locations showed support to the demonstrators, shouting "Fascists" as the police made arrests.
The US and the EU after the election announced plans to sanction the Lukashenko regime by closing some foreign bank accounts owned by Belarusian officials, and by widening a travel ban to Western countries by the Lukashenko entourage.
US President George Bush in a statement declared that he "stands by the Belarusian people ... in their fight for democracy."
Lukashenko has laughed off the sanction threats, saying he owns no foreign bank accounts, and that he and his subordinates have no particular interest in travelling to the US or the EU.
Comments will be moderated. Keep comments relevant to the article. Remarks containing abusive and obscene language, personal attacks of any kind or promotion will be removed and the user banned. Final decision will be at the discretion of the Taipei Times.