Groundhog Day provides only cold comfort
In a decades-old tradition, Americans looked to a groundhog to predict whether they should expect another six weeks of winter weather. The creature's involuntary answer appeared to be "yes."
The groundhog, named Punxsutawney Phil for the town in which he burrows, saw his shadow. According to the tradition, if the hibernating animal sees his shadow on Feb. 2, one can expect six more weeks of chilly weather. If he doesn't see his shadow, warmer weather is near.
There were a few boos among the crowd of thousands since North America has been experiencing mostly mild winter weather. On Thursday, the morning temperature was well above freezing and Thursday's high was expected to hit 9CC.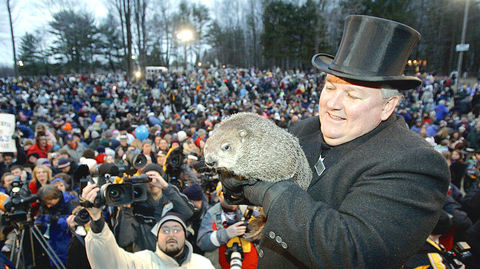 Punxsutawney Phil, the weather predicting groundhog, is held by his handler Bill Deeley in front of a crowd that came to hear the prediction of six more weeks of winter in Punxsutawney on Thursday.
PHOTO: AP
The tradition is believed to have originated with a German superstition.
The Germans believed that if a hibernating animal casts a shadow on Feb. 2 -- the Christian holiday of Candlemas -- winter will last another six weeks. If no shadow is seen, legend says spring will come early.
According to organizers, Phil has now seen his shadow 96 times, hasn't seen it 14 times. The last time Phil failed to see his shadow was in 1999.
The tradition was featured in the 1993 movie Groundhog Day, starring Bill Murray as a cynical weatherman who becomes stuck in a deja vu scenario when he is sent to cover the event.
The event is carried out each year by the Punxsutawney Groundhog Club's Inner Circle, a group of top hat and tuxedo wearing businessmen.
Inner Circle members said the whole reason for the country's "second favorite holiday" -- he didn't name the first -- is to just have fun.
"Winters are long and bleak. We lack sunshine and daylight," said Bill Cooper, the club's president. "Cabin fever was a true disease then and it still gets you."
Some of the onlookers had been waiting hours for Phil to emerge.
Others latched on to the Phil frenzy for a publicity boost -- for just about anything, from global warming to the lottery.
Comments will be moderated. Keep comments relevant to the article. Remarks containing abusive and obscene language, personal attacks of any kind or promotion will be removed and the user banned. Final decision will be at the discretion of the Taipei Times.