Former detainees appeal for release of Western peace campaigners in Baghdad
British former detainees at the US military base Guantanamo Bay appealed on Thursday for the release of four Western peace campaigners held hostage and facing execution in Iraq.
Moazzam Begg, a Briton detained for nearly three years at the Guantanamo base in Cuba, said images of the hostages in orange jumpsuits reminded him of their time in detention.
The plea came after Britain issued a renewed appeal for the kidnappers to make contact.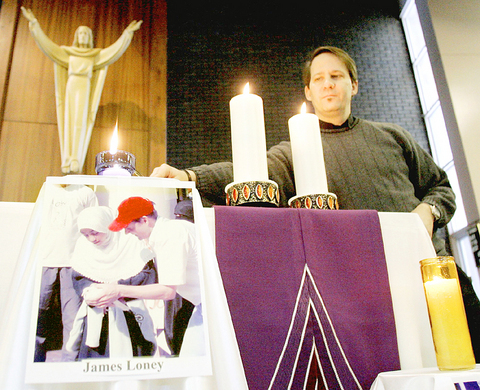 Father George LaPierre of St. Gerard Majella in Sault Ste. Marie, Ontario, Canada, lights candles near a photograph of his friend James Loney, who is being held hostage in Iraq, on Wednesday.
PHOTO: AP
Begg said in a statement on BBC television: "We came home to find that there were people who opposed their government in their brutal war waged against Afghanistan and Iraq and stood on the side of justice. And they were not Muslims."
Begg was one of the last four Britons to be repatriated from Guantanamo in January.
"It is our sincerest belief that Norman Kember, the 74-year-old Briton, and those with him are amongst those people, the many people, who opposed this war from the beginning and were only in Iraq to promote human rights for the oppressed," he said.
"Just like Sheikh Abu Qatada, we also hope that our words may encourage you to show mercy to these men and let them free," Begg said.
In an exceptional gesture, the British Foreign Office authorized Qatada, an Islamist with reputed al-Qaeda connections who is detained in Britain on security grounds, to record on Wednesday an appeal for the hostages' release.
The kidnappers of Kember, Canadians James Loney, 41, and Harmeet Singh Sooden, 32, and US national Tom Fox, 54, extended by 48 hours to today their deadline to kill them.
The four members of the Christian Peacemaker Teams (CPT) organization were abducted in Baghdad on Nov. 26 by a group calling itself the Brigades of the Swords of Right. It has threatened to kill them unless all detainees in US and Iraqi prisons are freed.
Britain's Foreign Secretary Jack Straw earlier appealed to the abductors to make contact.
"As I have said before, if the kidnappers want to get in touch with us, we want to hear what they have to say. We have people in Iraq and the region, and they are ready to hear from the kidnappers," Straw said.
Straw's appeal did not include an explicit offer to open negotiations.
Comments will be moderated. Keep comments relevant to the article. Remarks containing abusive and obscene language, personal attacks of any kind or promotion will be removed and the user banned. Final decision will be at the discretion of the Taipei Times.