Nigerian militants threaten violent action after their leader is arrested
DELTA TROUBLE A spokesman said that `his boys' are ready to cause havoc with oil installations if their hero is not released
Nigerian separatist militants threatened to destroy oil wells and pipelines yesterday after saying their leader had been arrested on suspicion of gun-running and endangering national security.
"My boys are ready. If I have not heard from him in person in the next six hours we will take action," Alali Horsefall, deputy commander of the banned Niger Delta People's Volunteer Force, warned by telephone from Port Harcourt.
The six-hour deadline was due to expire at around 7am yesterday.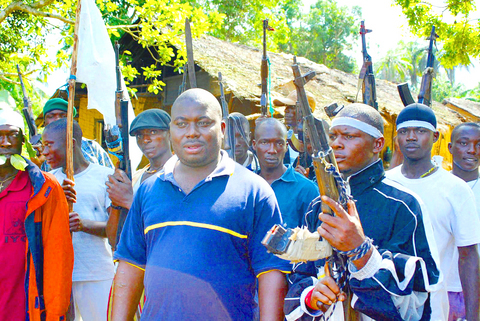 This picture shows militia leader Dokubo Asari, center, in a village hideout in the Niger Delta. Separatist militants threatened to destroy oil wells and pipelines across the Delta unless their arrested leader is released.
PHOTO: AFP
Earlier, NDPVF militants took to the streets of the southern oil city to demand the release of their leader Alhaji Dokubo Asari, whom they said had been detained by police and flown to the capital Abuja for questioning.
Police refused to comment on the claim.
"They have accused him of moving arms through the country and threatening the security of Nigeria again," Horsefall said.
He would not explain how he had received details of the interrogation, saying simply: "This is Nigeria, we can find things out."
Last year Asari set up secret armed camps for young militants in the creeks of the Niger Delta south of Port Harcourt, the center of the west African giant's multi-million-dollar oil industry.
Demanding independence for the Ijaw, the delta's main ethnic group, the 40-year-old rebel clashed with security forces and rival militias. The fighting left scores dead and a string of towns and villages devastated.
The federal government initially declared him a wanted man but President Olusegun Obasanjo later invited him to peace talks after he gave a series of high-profile media interviews and threatened to disrupt Nigerian oil exports.
He has since been living openly and in some luxury in a Port Harcourt villa but has remained a thorn in the side of federal officials, campaigning for secession and repeatedly threatening to return to armed struggle.
It was not immediately clear whether the NDPVF, which has given up hundreds of assault rifles and machine guns since signing the peace deal, was in a position to carry out Horsefall's threat to "bomb oil installations."
But Asari has made himself a popular hero among the Ijaw since launching his struggle and the river gangs loosely under his influence have a track record of hijacking pumping stations, vandalizing pipelines and kidnapping oil workers.
Although the delta is home to Africa's largest oil industry and exports some 2.5 million barrels of oil per day, the people of the region remain mired in poverty and claim that pollution has poisoned their fields and fisheries.
Several ethnic groups, including a 12-million-strong Ijaw-speaking group and the minority Ogoni community, have demanded greater autonomy and control over their mineral resources. Some leaders, including Asari, want full independence.
Comments will be moderated. Keep comments relevant to the article. Remarks containing abusive and obscene language, personal attacks of any kind or promotion will be removed and the user banned. Final decision will be at the discretion of the Taipei Times.