China starts drilling at disputed site
ENERGY FIELD Japan says flames spotted at a platform in the China Sea confirm that China has started production, while Beijing said the activity falls within its rights
Japan said yesterday that China has started production of gas or oil in a disputed energy field in the East China Sea where Chinese warships were recently spotted, and it would consider countermeasures.
Japanese officials have spotted flames spouting out of a Chinese drilling facility just on China's side of what Japan says is a dividing line in the potentially lucrative field. China does not recognize the line.
"We are not sure whether it is oil or gas. But we have confirmed that they have finally started digging," Economy, Trade and Industry Minister Shoichi Nakagawa told a news conference.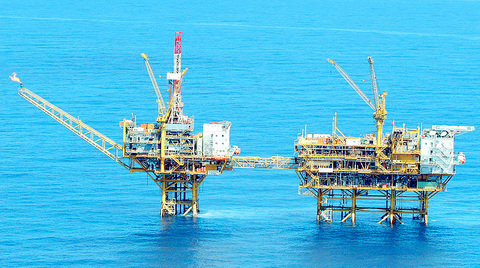 This Japan Coast Guard handout picture shows a Chinese gas platform in the East China Sea near the Japan-China border yesterday. China has started production of gas and oil in a disputed energy field in the East China Sea.
PHOTO: AFP
"The government is coordinating to consider ways to deal with this. The facility is located in the area of the dispute, although it is not clear whether the gasfield crosses the median line," he added.
Japan says that China, even if it digs from its side, could extract Japanese resources underground. It wants an agreement between the two countries before either starts extraction.
China and Japan, whose relations have worsened this year, have repeatedly protested to each other over the disputed field. But a series of high-level meetings has led to no agreement other than to continue dialogue.
In Beijing foreign ministry spokesman Qin Gang (秦剛) said that China's position "has not changed" despite Japan's new assertion.
Qin told reporters that China's East China Sea drilling was within its rights.
"China's exploration in the gas field is being conducted in uncontested waters," he said.
However, Qin said, China was willing to conduct talks with Tokyo on the drilling question.
"The principle of the Chinese side is that we hope that the issue between China and Japan in the East China Sea can be handled by dialogue and negotiation," he said.
Nakagawa said he hoped Japan and China would resume dialogue on the issue. Qin said only that arranging the next round "requires further contact and consultations by the two sides."
Japan said Chinese warships were seen near the gasfield for the first time on Sept. 9, two days before Japan's general election. China said they were on a routine drill.
China began test-drilling unilaterally in the East China Sea in 2003. Japan accuses Beijing of reaching into Tokyo's exclusive economic zone, and in July the government for the first time granted a Japanese firm permission to explore the area.
A Japanese survey in 1999 estimated that the disputed field held a massive 200 billion cubic meters of gas.
The gas dispute stems from a disagreement over which sea resources the two sides can claim in the East China Sea, which separates China's eastern coast and Japan's southern island chain of Okinawa.
Under the UN Convention on the Law of the Sea, coastal countries can claim an economic zone extending 200 nautical miles (370km) from their shores. Both Japan and China signed the treaty, but the UN has until May 2009 to rule on the claims.
China also bases its claim on a separate international treaty that lets coastal countries extend their borders to the edge of the undersea continental shelf.
Japan and China, two of the world's biggest energy importers, have also clashed over securing priority to an oil pipeline being built in Russia.
Comments will be moderated. Keep comments relevant to the article. Remarks containing abusive and obscene language, personal attacks of any kind or promotion will be removed and the user banned. Final decision will be at the discretion of the Taipei Times.