Hundreds of weapons smuggled through Gaza
SECURITY NIGHTMARE Three arms dealers said large quantities of assault rifles, pistols and bullets have been brought in since the Israeli tanks withdrew on Monday
Egyptian and Palestinian forces moved to close the wide-open Gaza-Egypt border after Palestinian gunrunners smuggled hundreds of assault rifles and pistols into Gaza, according to dealers and border officials.
The influx confirmed Israeli fears about giving up border control, could further destabilize already chaotic Gaza and could weaken embattled Palestinian President Mahmoud Abbas, so far unsuccessful in his efforts to impose order after Israel's pullout.
Abbas' lack of clout was evident on Wednesday when he canceled his appearance at his own celebration rally at the site of what was Israel's largest Gaza settlement, Neve Dekalim. An aide said Abbas was concerned about gunmen in the crowd, but equally disconcerting was the fact that Palestinian political factions and militant groups ignored Abbas' invitation for a show of unity, and the crowd was much smaller than expected.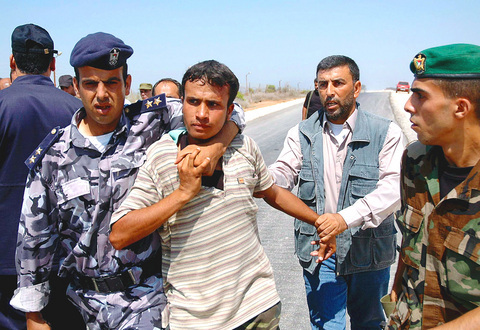 Palestinian Authority security forces capture a young man thought to be invovled in illegal arms smuggling on Wednesday, on the border between the southern Gaza Strip and Egypt near Rafah.
PHOTO: EPA
Abbas' main rival, Hamas leader Mahmoud Zahar, appeared briefly, holding hands aloft with Abbas aide Tayeb Abdel Rahim. Hamas called its own demonstration for today.
A sign of the overall chaos in Gaza in the wake of Israel's pullout on Monday was the scene at the Gaza-Egypt border. Until Israeli tanks pulled out, it was the most closely guarded border in the region, with the Israelis trying to prevent Palestinian arms smuggling.
The exit of the Israelis was a sign for Palestinians to jump over the border walls as Egyptian forces watched.
The first day was mostly family reunions and trips to the beach, but the second day was characterized by weapons smuggling.
Palestinian Interior Ministry spokesman Tawfiq Abu Khoussa said that the border was officially closed as of 6pm on Wednesday, but Palestinians and Egyptians caught on the wrong side were being allowed to return home.
Israel voiced sharp concern about the continued disorder, sending message to the US, Egypt and the Palestinians.
"We will not put up with this," Israeli Defense Minister Shaul Mofaz said on Wednesday.
Three arms dealers interviewed separately said their "mules" have bought large quantities of assault rifles, pistols and bullets in Egypt, where prices are lower, mainly from Bedouin tribesmen, since the Israeli withdrawal was completed on Monday.
Since Monday, black market prices for weapons in Gaza have dropped sharply, the dealers said. The price of an AK-47 assault rifle fell from 1,400 Jordanian dinars (US$2,000) to about 900 dinars, while the bullets for the weapon are now being sold for as little as 3 shekels (less than US$1) when previously they cost up to 18 shekels.
Egyptian-made pistols that were recently sold in Gaza for US$1,400 can now be bought for as little as US$180, said an arms dealer who identified himself only as Khader, for fear of arrest.
Another dealer, who was interviewed in a car just outside the Rafah cemetery, said hundreds of AK-47s had been smuggled from Egypt since Monday. He said he has already sold his loot to militant groups, but declined to say how many pieces his runners brought back.
Khader, interviewed by phone, said his runners came back mainly with pistols and bullets, rather than the heavier assault rifles and rocket-propelled grenade launchers.
"My people brought me lots of things, including pistols and gold," he said.
A third dealer, who gave his name as Hafez, said competitors reported having US$1 million worth of weapons and loot confiscated, including grenade launchers.
"That's why everyone involved was concentrating on small pieces," he said.
Comments will be moderated. Keep comments relevant to the article. Remarks containing abusive and obscene language, personal attacks of any kind or promotion will be removed and the user banned. Final decision will be at the discretion of the Taipei Times.