Blair tells China to embrace change
POLITICAL DEVELOPMENT The British prime minister ended a summit in Beijing by urging Chinese leaders to move toward democracy and improve human rights
British Prime Minister Tony Blair urged China yesterday to embrace greater political freedom and make progress on human rights, saying the world needed to know what kind of economic powerhouse it was dealing with.
Blair's comments in Beijing followed a second day of talks with Chinese Premier Wen Jiabao (溫家寶) and the signing of banking and airplane deals worth around US$1.5 billion.
"What we want to see is the development of human rights and greater democracy, not just because it is our system but because we think that's the best way that economic and political development go hand in hand," Blair told reporters.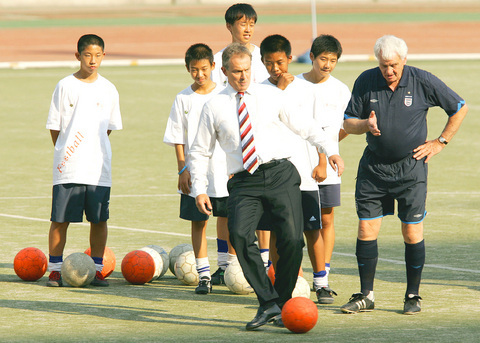 British Prime Minister Tony Blair kicks a football as former England manager Sir Bobby Robson coaches him and Chinese children look on yesterday in Beijing.
PHOTO: AFP
He said Wen had acknowledged during their talks that political change must accompany economic growth but added that no timetable had been discussed.
Blair also met Wen for five hours on Monday because Britain holds the rotating presidency of the 25-member EU.
Blair said: "It's not that people resent China, but they've got a question mark because they see an economic powerhouse and ask, 'Will this developing economy be matched by political development and in the field of human rights?'"
With China set to become the world's second-largest economy in a decade, global stability depended on the willingness of Europe and others to keep markets open and rise to the challenge of China rather than treating it as a threat, he said.
"At the same time China has to understand that they [the West and others] see a new China emerging and want to know what kind of country they are dealing with," he said.
On Monday Wen said China's people may get the chance to directly elect their leaders at township level "in several years."
But Blair said: "There's an unstoppable momentum towards greater political freedom, progression in human rights. I think there's an understanding that should happen. Whether it does happen or not, obviously only time will tell."
Blair's spokesman said the two leaders also discussed the EU's embargo on arms sales to China as well as the EU's refusal to grant China market-economy status, which would give it greater protection from EU suits alleging cut-price dumping of exports.
"I think it is fair to call our meetings in-depth, practical, frank and productive ones," Wen told Blair at the start of their talks in the Great Hall of the People.
Stars of sport, arts and design joined Blair yesterday in capping a two-day visit to China with fresh initiatives to increase bilateral, cultural and educational exchanges.
Wen and Blair oversaw the signing of a major five-year cultural exchange agreement that British officials say will open the door to "large-scale cultural collaboration."
It incorporates steps towards cooperation between Beijing and London as they prepare to host the 2008 and 2012 Olympic Games.
Ballerina Darcey Bussell, architect Lord Norman Foster and Richard Curtis, writer of Notting Hill, were among those who gave masters classes around Beijing yesterday afternoon.
Bussell, principal dancer with the Royal Ballet, worked with second-year students at Beijing Dance Academy, while former England manager Sir Bobby Robson helped 30 to 40 young footballers hone their skills. Curtis lectured students at Beijing Film Academy while architect Lord Norman Foster discussed his work with 250 young architects and urban planners.
Comments will be moderated. Keep comments relevant to the article. Remarks containing abusive and obscene language, personal attacks of any kind or promotion will be removed and the user banned. Final decision will be at the discretion of the Taipei Times.