Australia gives Chinese ex-cop a protection visa
Australia has granted a protection visa to a former Chinese policeman who claims to have information on the torture and abuse of dissidents in China, his lawyer said yesterday.
Hao Fengjun (郝鳳軍), 32, received the visa last week, a day after testifying at a Senate inquiry into the government's handling of another high-profile Chinese defector, lawyer Bernard Collaery said.
Hao claims to have worked for a Chinese security department known as the 610 Office, where his job was to handle reports from overseas informants spying on pro-democracy activists and followers of the Falun Gong meditation movement. He arrived in Australia in February as a tourist and subsequently sought asylum, saying he had brought secret documents detailing the torture and abuse by Chinese authorities of Falun Gong practitioners. His case became public after a first secretary at China's consulate in Sydney, Chen Yonglin (陳用林), quit his post and demanded political asylum in May, asserting that China had up to 1,000 spies operating in Australia.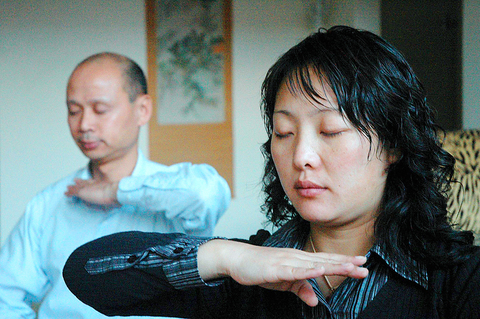 Li Ying, right, and husband Grant Lu practice Falun Gong in Sydney last month. Li, a Chinese resident, claims the Chinese government was spying on her because of her involvement with Falun Gong, a claim backed by Hao Fengjun, a Chinese policeman who is attempting to defect to Australia.
PHOTO: EPA
After initially refusing the request, the government granted Chen, 37, a protection visa early last month. Both Hao and Chen testified last week to a Senate committee looking into the government's handling of Chen's initial asylum request. Collaery told the same inquiry that immigration officials ignored Hao for months and only interviewed the former policeman early last month after he went public with his claims about abuse of Falun Gong members.
Yesterday, Collaery suggested his client finally received a protection visa allowing him to remain in Australia only because of the publicity surrounding last week's Senate hearings.
"It took that kind of pressure ... to get protection in our country," he was quoted as saying by the Australian Associated Press.
Collaery spoke as Hao attended a protest by about 80 Falun Gong followers near a Canberra court that was hearing a complaint by the movement against Foreign Minister Alexander Downer.
Their suit claims Downer's department unfairly curbs freedom of expression by imposing restrictions on protest demonstrations outside the Chinese embassy in Canberra.
Comments will be moderated. Keep comments relevant to the article. Remarks containing abusive and obscene language, personal attacks of any kind or promotion will be removed and the user banned. Final decision will be at the discretion of the Taipei Times.