Israeli troops raid West Bank
MOUNTING UNEASE The Israeli military has stepped up its operations against Palestinian militants after tit-for-tat violence left a months-old truce in tatters
Israeli troops raided towns across the West Bank early yesterday, arresting 26 accused Palestinian militants a day after mounting violence left a 5-month-old Mideast truce in tatters, the army said.
The army said it had arrested 16 fugitives in the southern West Bank city of Hebron, five Islamic Jihad militants in the town of Bethlehem and five Hamas militants in the northern West Bank city of Nablus, a militant stronghold.
The military has stepped up its operations against Palestinian militants in the wake of a suicide bombing and an unceasing wave of rocket and mortar attacks that killed a total of six people this week.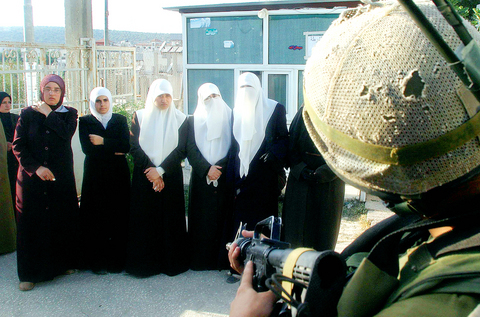 Israeli soldiers guard Palestinian women who were trying to get to a hospital to check on wounded relatives following Israeli helicopter strikes in the West Bank on Friday.
PHOTO: AFP
On Friday, Israeli aircraft conducted repeated airstrikes on militant targets, killing six Hamas fighters in attacks on a West Bank militant hideout and a van filled with homemade rockets.
The violence threatened to intensify. Israeli troops massed at two makeshift camps outside Gaza, and Defense Minister Shaul Mofaz told army commanders late on Friday to plan for a ground operation in northern Gaza, though a raid would be delayed to give the Palestinians time to take action themselves.
Hamas threatened revenge against Israel for the airstrikes, which appeared to signal Israel's resumption of targeted killings of Hamas leaders.
Israel said the targeted killings were intended to prevent imminent attacks by militants.
"Israel's policy is not to allow `ticking bombs' to reach their targets. Every pinpoint attack saves lives," Amos Gilad, a top Defense Department official, told Israel Radio yesterday.
The fighting jeopardized the ceasefire deal Israeli Prime Minister Ariel Sharon and Palestinian leader Mahmoud Abbas reached at a February summit in Egypt, which led to a marked decrease in violence and helped Abbas fend off Israeli demands for a crackdown on the militant groups.
But the new violence called into question Abbas' policy of persuading the militants to voluntarily end attacks, and Israel and the US were pressuring him to tackle the armed groups.
Early on Friday, Palestinian police, trying to stop the rocket firing, fought Hamas gunmen in the streets of Gaza City in a gunbattle that left two teens dead and 25 others wounded in the worst internal fighting among Palestinians in years.
Palestinian security chief Nasser Yousef said his forces will "not hesitate" to restore law and order, and ordered rocket attacks to be stopped by all means.
Palestinian security forces made a more subtle show of force yesterday when they filed through the streets of the West Bank city of Ramallah and told shopowners to ignore militants' call to strike in mourning for those killed in the airstrikes.
However, the militants continued attacking Israeli targets, launching rockets and mortar shells at Israeli towns and Gaza settlements yesterday.
Comments will be moderated. Keep comments relevant to the article. Remarks containing abusive and obscene language, personal attacks of any kind or promotion will be removed and the user banned. Final decision will be at the discretion of the Taipei Times.