US-trained Uzbeks may see cutbacks
The black-masked guard behind the gate of the regional police office sauntered over with his Kalashnikov projecting the embodiment of force, but his just-visible brown eyes softened when he fondly remembered his time training in the US.
Behind him, dozens of military and police troops in buses streamed out of the heavily guarded Andijan police complex wearing new American-style helmets to maintain control in this eastern city, the scene of the worst violence since Uzbekistan's 1991 independence.
Uzbekistan has been a key ally in the US-led war on terror, providing a base for American troops for operations in neighboring Afghanistan.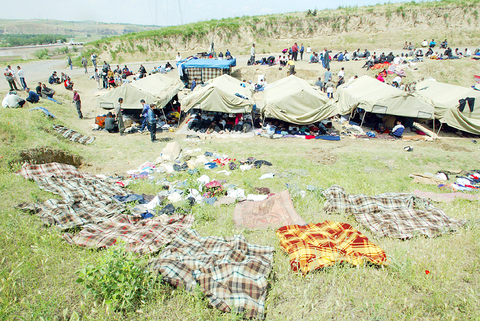 The view of a refugee camp near the border with Uzbekistan in Kyrgyzstan, in Kara Darya on Wednesday. Kyrgyz leadership pledged that Uzbek refugees who fled to southern Kyrgyzstan after a violent crackdown on protesters won't be expelled.
PHOTO: AP
But even before the Sept. 11, 2001 attacks, the US government provided training and equipment to Uzbek troops and police -- some of the same forces who opened fire without warning May 13 on about 2,000 demonstrators supporting armed militants who had seized government buildings and freed 23 businessmen jailed for alleged Islamic extremism.
Following the May 13 action, international groups renewed calls for the US and international community to reconsider assistance to Uzbekistan, where President Islam Karimov has rejected calls for an independent inquiry into the crackdown. The government claims 173 were killed, including 36 troops, but human rights groups allege that hundreds died.
Under US law, no unit of a foreign military can receive training if it is found to have committed a gross violation of human rights.
Uzbek officials won't name the exact units involved in the Andijan events for security reasons. But one police official who spoke on condition of anonymity said all the country's elite forces had been mobilized here, including regular army and special forces of all sorts.
At the Andijan police headquarters, the masked guard wearing blue-and-grey urban camouflage said he was an intelligence officer with the Kalkon unit, meaning "Shield." Seeing a foreign reporter, he briefly reminisced about training in the US, where lessons were first translated into Russian, but because not everyone could understand, an Uzbek speaker from Tashkent was later summoned.
Under a 2002 strategic partnership agreement between Washington and Tashkent, the US pledged to help equip Uzbek military units and train them in combating terrorism, drug trafficking, money laundering and other threats.
Karimov has used the language of anti-terrorism in explaining authorities' actions in Andijan, claiming the instigators were extremists bent on creating a Muslim state -- and refusing to acknowledge any peaceful protesters were present as seen by reporters.
Regular exercises
US and Uzbek soldiers have held regular training exercises since the 1990s, with American special forces troops heading to the mountains with their Uzbek counterparts for lessons on repelling incursions -- a main worry for Uzbekistan after several such attacks starting in the late 1990s by the al-Qaeda-allied Islamic Movement of Uzbekistan.
Much US assistance also focuses on worries about the spread of weapons of mass destruction across rugged, poorly controlled borders. Uzbekistan controls half of an island in the Aral Sea that was the site of a Soviet biological weapons research lab, and has some nuclear facilities.
Uzbek troops have also traveled to bases in the US for special forces, airborne and English-language programs.
Uzbekistan's human rights abuses have caused it to lose aid before. Last July, the US State Department withdrew most of its aid after failing to certify Tashkent had made progress to rectify its abuses.
But later that month, General John Abizaid, the top US commander in the region, flew to Tashkent to reassure the Uzbeks that the American military would maintain and even boost its cooperation -- aid that is separate from State Department assistance.
After the Andijan violence, Abizaid said the US military was scaling back operations at the Karshi-Khanabad base in southern Uzbekistan. But officers at the base told a visiting reporter that they hadn't noted any reduction in movement there.
The Uzbeks are now engaged in talks with Washington hoping to get compensation for use of the base, now rent-free for US troops.
Noting the base negotiations that could be a financial windfall for Uzbekistan, US-based Human Rights Watch expressed concern this week that Defense Department cooperation with the country continues, and that the European Union also gives some US$20.1 million in indirect assistance. Uzbek troops in Andijan were seen driving around in British Land Rovers.
"The US and the EU have to make clear that there will be real consequences for a cover-up if there is no independent investigation, and they have to set a deadline for it to take place," Holly Cartner, Europe and Central Asia director at Human Rights Watch, said in a statement.
The sentiment was echoed by the Brussels-based International Crisis Group think tank, which noted Thursday that despite the decline in US aid in recent years, there is a "widespread perception among Uzbeks that the US strongly backs an increasingly unpopular regime."
Regime abuses
"For too long [the international community] has ignored the abuses of the Karimov regime and the signs that trouble was brewing in the country," the group said in a report on the Andijan crackdown. "The failed policies of muted criticism -- and tacit support -- must be abandoned."
It's not clear if any immediate reconsideration of assistance is in the works. On Wednesday, US State Department spokesman Richard Boucher said Washington still is pressing for reforms and an open investigation into the Andijan violence, but that anti-terrorism cooperation with Uzbekistan would continue.
"It doesn't do any of us any good to abandon the effort against terrorism in this critical region," Boucher said. "So we will continue work with them in many areas, including the fight against terrorism."
Comments will be moderated. Keep comments relevant to the article. Remarks containing abusive and obscene language, personal attacks of any kind or promotion will be removed and the user banned. Final decision will be at the discretion of the Taipei Times.