Latest UN oil-for-food probe turns its gaze inward
Whether smuggled to Jordan or sold to Russian politicians, millions of barrels of illicit Iraqi oil ultimately fueled the cars and heated the homes of ordinary Americans, according to a US Senate subcommittee.
After accusing politicians from France, Britain and Russia of involvement in Saddam Hussein's oil-for-food scheme, the committee focused on alleged American complicity in a report released Monday night.
The report claimed that Washington looked the other way as the Texas oil company Bayoil bought Iraqi crude and sold it to American refineries. As a member of the UN Security Council, the US allowed Saddam to pocket billions of dollars smuggling oil to Jordan, Turkey and Syria, it said.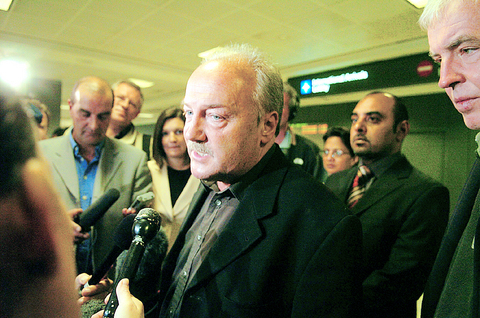 British legislator George Galloway speaks to the media as he arrives at Dulles International Airport in Chantilly, Virginia, on Monday.
PHOTO: AP
"We've got to look in the mirror at ourselves as well as point fingers at others," Senator Carl Levin, a Michigan Democrat, told reporters in a conference call on Monday before the report was released.
The two issues were among several to be discussed at a day-long hearing Tuesday by the subcommittee of the US Committee on Homeland Security and Government Affairs, chaired by Minnesota Republican Norm Coleman.
Coleman's subcommittee has released three reports since Thursday exploring how Saddam made billions in illegal oil sales despite UN sanctions imposed in 1991 after Iraq's invasion of Kuwait. British, French and Russian politicians took part, the committee claimed.
Among those scheduled to testify Tuesday was George Galloway, the outspoken British lawmaker whom Coleman's subcommittee has accused of taking vouchers under oil-for-food.
As he got off the plane in Washington on Monday night, Galloway again denied the allegations and said the evidence against him was forged.
"It's Mr. Coleman who's been all over the news and he's a lick-spittle, crazed neocon who is engaged in a witch hunt against all those he perceives to have betrayed the United States in their plan to invade and occupy Iraq," Galloway told reporters.
The oil-for-food program, which ran from 1996 to 2003, was designed to let Saddam's government sell oil in exchange for humanitarian goods to help the Iraqi people cope with crippling UN sanctions.
But Saddam peddled influence by awarding favored politicians, journalists and others vouchers for oil that could then be resold at a profit. He also smuggled oil to Turkey, Jordan and Syria outside the program, often with the explicit approval of the US and the rest of the UN Security Council.
Many of the allegations made by Coleman's subcommittee are not new. In April, for example, Bayoil USA owner David Chalmers was indicted in US District Court for allegedly funneling kickbacks to Saddam. Chalmers has denied any wrongdoing.
But rarely had the allegations been spelled out with so much detail or scope. Coleman's investigators have interviewed former top Iraqi officials and businessmen, who provided a behind-the-scenes look at how Saddam's grand scheme worked.
Monday's documents, released by the minority Democrats on Coleman's subcommittee, studied two issues: Bayoil's involvement in oil-for-food and a single instance that saw Saddam's regime smuggle more than 7 million barrels of oil out of the Iraqi port of Khor al-Amaya, apparently with US knowledge, in the weeks before the invasion in 2003.
The report found that Bayoil imported some 200 million barrels over two years starting in September 2000 and sold it to US oil companies. That was at a time when Saddam was trying to tinker with the price of oil so that when he sold it, companies could be compelled to pay him kickbacks.
The report claimed that Bayoil paid "directly or indirectly" some US$37 million in kickbacks to Saddam.
Comments will be moderated. Keep comments relevant to the article. Remarks containing abusive and obscene language, personal attacks of any kind or promotion will be removed and the user banned. Final decision will be at the discretion of the Taipei Times.