Protests spread to Kabul after deaths
HOLY BOOK A day after violent anti-US riots in eastern Afghanistan left four people dead, hundreds of people took to the streets to protest alleged abuse of the Koran
Afghan students burned an American flag and shouted slogans against the US military yesterday, as protests at reported abuse of Islam's holy book at the US jail in Guantanamo Bay spread to the capital.
A day after riots in an eastern city left four people dead, more than 200 young men marched from a dormitory block near Kabul University chanting "Death to America!" and carrying banners including one stating: "Those who insult the Koran should be brought to justice."
At the entrance to the university, a man with a clipped beard and spectacles read a resolution calling on US President George W. Bush to apologize and opposing long-term US military bases in Afghanistan.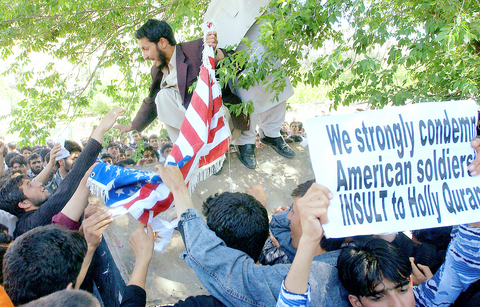 Afghan students from Kabul University prepare to burn a US flag during a protest in Kabul yesterday. Some 200 to 300 university students demonstrated against the alleged desecration of the Koran at a US military jail in Guantanamo Bay, taking to the streets of the Afghan capital in a third day of protests across the country which have left four people dead, witnesses said.
PHOTO: AFP
About two dozen students clambered onto the roof of nearby building and burned a US flag to applause and cries of "God is great!" from the crowd below. Dozens of police -- some armed with sticks, others with rifles -- looked on.
Ahmad Shah, a political sciences undergraduate, said the students had decided to protest after hearing of the deaths on Wednesday.
"America is our enemy and we don't want them in Afghanistan," Shah said as the students ended their protest and returned to classes on Thursday morning. "When they insult our holy book they have insulted us."
Police said 150 students staged a similar brief demonstration at another high school in the city, but reported no violence.
On Wednesday, police and government troops opened fire in the eastern city of Jalalabad after a protest by more than 1,000 people turned into a riot and the biggest outpouring of anger at the US since the fall of the Taliban in 2001.
Four people were reported killed and 71 wounded, including six police officers. Government buildings and the offices of several relief organizations were looted and burned. The city was quiet yesterday.
Peaceful demonstrations have been reported in at least four other Afghan provinces.
The source of anger was a brief report in the May 9 edition of Newsweek magazine that interrogators at Guantanamo Bay, Cuba, placed Korans on toilets in order to rattle suspects, and in at least one case "flushed a holy book down the toilet."
Hardline Islamic parties in neighboring Pakistan have called for protests today. The Pakistani government said at the weekend it was "deeply dismayed" over the report, which Pentagon and White House officials said would be investigated.
Many of the 520 inmates in Guantanamo are Pakistanis and Afghans captured after the Sept. 11 attacks.
Afghan President Hamid Karzai, who travels to Washington later this month to seek long-term American military and economic aid, has called repeatedly for all the Afghan prisoners to be sent home.
Comments will be moderated. Keep comments relevant to the article. Remarks containing abusive and obscene language, personal attacks of any kind or promotion will be removed and the user banned. Final decision will be at the discretion of the Taipei Times.