W Africans urge peace in Togo
UNREST A delegation holding talks with Togo's leadership called for negotiations to end the violence, as the Red Cross meanwhile reported clashes outside the capital
Following several days of unrest that has left dozens of people dead, a senior delegation from a West African regional bloc with the two main political camps in Togo in an effort to resolve the tension gripping the country.
The delegation, which included the secretary general of the Economic Community Of West African States (ECOWAS), Mohamed Ibn Chambas, held talks with Togo's interim president as well as government ministers and opposition leaders in a series of meetings late on Saturday.
"Violence is not the way to deal with democracy. We think the way forward is for the Togolese to use dialogue, and to sit down and negotiate," Chambas said after the meetings.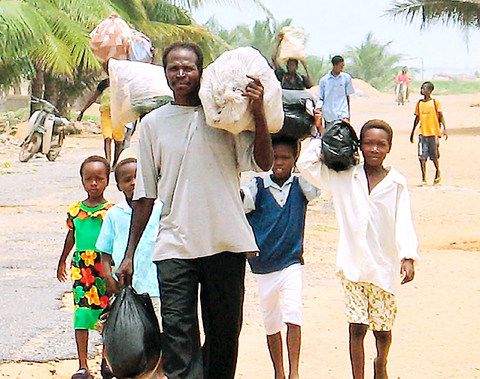 A Togolese family carrying their possessions walks towards the Ghana border on Saturday to flee the country amid violence since election results were announced last week.
PHOTO: EPA
The main opposition UFC (Union des forces de changement) said earlier it is willing to open up discussion with the ruling party through mediators.
Another member of the delegation, Niger's Foreign Minister Aichatou Mindaoudou, said that the ECOWAS message to the Togolese has been the same from the start of the current turmoil: "Regional leaders worry about three things: respecting the constitution, organizing elections and guaranteeing peace and security in Togo."
The capital, Lome, remained calm on Saturday, but opposition supporters outside the city clashed with both security forces and ruling party supporters, the Red Cross said.
A spokesman for the relief group in Lome said that Aneho on the country's border with Benin had seen clashes between opposition supporters and security forces earlier on Saturday.
He also said that supporters of the two presidential rivals, Faure Gnassingbe and Emmanuel Bob-Akitani, had clashed in Kpalime, situated across the narrow country on the western border with Ghana.
The Red Cross had no information on casualties in the clashes, the spokesman said.
At least 22 people have been killed in street battles in Lome since the electoral commission gave the victory on Tuesday to ruling party candidate Faure Gnassingbe. Opposition leader Bob-Akitani declared himself president a day later, saying he could prove that he won the April 24 presidential election.
The Ghana News Agency reported on Saturday that the flow of refugees from Togo into Ghana has been increasing, with some 1,500 people arriving in two districts along their common border.
Comments will be moderated. Keep comments relevant to the article. Remarks containing abusive and obscene language, personal attacks of any kind or promotion will be removed and the user banned. Final decision will be at the discretion of the Taipei Times.