Hundreds of Iraqis protest outside Jordanian embassy
ANGER Hundreds of Iraqi Shiites accused the Jordanian government of involvement in a bombing that killed dozens last month as fresh violence gripped the country
Shiite demonstrators raised the Iraqi flag over Jordan's Embassy after more than 2,000 people marched through Baghdad demanding an apology for the alleged involvement of a Jordanian in a suicide bombing that killed 125 people.
Friday's protest -- the largest in a week of mounting anger -- came two days after the leader of the clergy-backed United Iraqi Alliance claimed during Iraq's first National Assembly meeting that neighboring Jordan wasn't doing enough to prevent terrorists from slipping into Iraq.
A US soldier was killed Friday when attackers fired on an patrol in Baghdad, the military said. At least 1,519 members of the US military have died since the Iraq war started two years ago, according to an Associated Press count.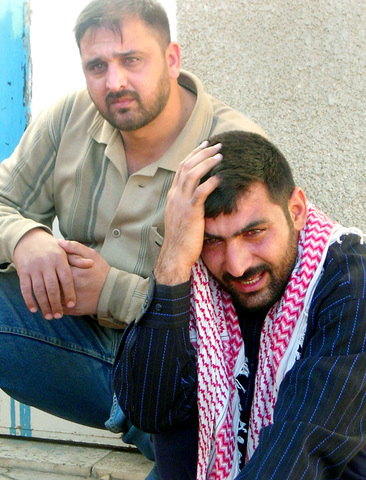 Yaseen al-Nidawi, right, grieves at the sight of his brother's body, murdered Iraqi Police officer Husain al-Nidawi in Baghdad, Iraq, Friday.
PHOTO: AP
Yesterday, assailants targeted security forces in the oil-rich northern city of Kirkuk, gunning down one police officer on his way to work then later blowing up a roadside bomb near a funeral procession carrying his corpse, police officials said.
Four police died in total and two others suffered injuries, said police Captain Ahmed Shinrani.
Also yesterday, a suicide attacker detonated an explosives-laden vehicle against a US military patrol on a highway 5km northwest of Ramadi, a city 113km west of Baghdad, said Sergeant Laith Ismael of the Iraqi police.
There was no word on casualties and US military officials couldn't immediately be reached for comment.
US and Iraqi forces also clashed Friday with gunmen in Ramadi after militants attacked a government building. No casualties were immediately reported.
On Friday, hundreds of protesters converged on the Jordanian Embassy after finishing prayers at three Shiite mosques around Baghdad. They burned Israeli and Jordanian flags and shouted slogans against Jordan's King Abdullah II, such as "Take your embassy away. We do not want to see you!" and "There's no God but God, Abdullah is the enemy of God!"
Three men in green camouflage, including one wearing a black balaclava mask, were later seen on an embassy roof raising an Iraqi flag on a makeshift flagpole. Another pole that previously held the Jordanian standard was bare.
Shiites have staged smaller protests in recent days after the Iraqi government on Monday condemned celebrations allegedly held by the family of a Jordanian man suspected of carrying out a Feb. 28 terrorist attack that killed 125 people in Hillah, 96km south of Baghdad. Nearly all the victims were Shiite police and army recruits.
The Jordanian daily Al-Ghad reported that Raed Mansour al-Banna carried out the attack, the single deadliest of the Iraqi insurgency. The paper later issued a correction, however, saying it was not known where in Iraq al-Banna carried out an assault.
"The Jordanian king must apologize to the people of Hillah and the people of Iraq," said Qasim Hussein, a Shiite cleric at the protest. "Blood money must be paid to the victims of Hillah."
Iraqi police and special forces gathered outside the embassy but failed to prevent demonstrators from reaching the building. The protesters later dispersed. No violence was reported.
A number of Iraqi politicians, including interim Prime Minister Ayad Allawi, have demanded explanations from the Jordanian government.
Jordanian government spokeswoman Asma Khader said her country condemned all terrorism and reconfirmed Jordan's solidarity with the Iraqi people.
In another development, Minas Ibrahim al-Yousifi, an Iraqi-born Swede kidnapped in Iraq, was freed Friday after more than a month in captivity, Swedish and Iraqi officials said. His family said earlier that the kidnappers demanded US$3 million ransom and a timetable for the withdrawal of US troops, but the terms of his release were not known.
Comments will be moderated. Keep comments relevant to the article. Remarks containing abusive and obscene language, personal attacks of any kind or promotion will be removed and the user banned. Final decision will be at the discretion of the Taipei Times.