Navy vessels to assist in relief effort
INDONESIA-BOUND The navies of four countries are bringing tonnes of supplies to Sumatra island in a massive international effort to help tsunami victims
A US carrier battle group was steaming to take up position yesterday off Indonesia's Sumatra island to spearhead an unprecedented multinational military effort to assist the survivors of last weekend's quake and tsunamis. \nA second US marine strike group was meanwhile steaming westward from the Pacific territory of Guam for the seas off Sri Lanka to buttress the burgeoning global drive to bring water, medical supplies to millions of increasingly desperate people. \nOther nations also rushed to join the seaborne effort, as naval ships from Singapore, Malaysia, Australia and India either prepared to sail Friday or Saturday, or were already under way for Aceh, Sumatra's northernmost province and the area closest to the quake. \nLed by the Nimitz-class aircraft carrier USS Abraham Lincoln, the five-ship battle group was powering yesterday through the Strait of Malacca, the 900km waterway that lies between Sumatra and the Malaysian peninsula. Aceh is at its northern end. \nThe seven-vessel Guam group, headed by the USS Bonhomie Richard, will arrive off Sri Lanka in a week, US officials said. \n"The United States is not there to take over the rescue or relief effort," an unnamed official said. "We are there to provide whatever help they decide they need." \nIn addition to the two US vessel groups, a further eight US supply ships were also sailing from Guam and Diego Garcia toward quake-hit regions, officials said, without saying which countries they were headed to. Between them, the supply ships carry 450,000 gallons of water, and are capable of making a further 90,000 gallons daily. \nIn the skies above, dozens of planes and helicopters -- both military and civil -- converged on Medan, the largest town in North Sumatra, as well as Banda Aceh, the provincial capital of Aceh, where tens of thousands of people are now known to have perished. \nThe US will deliver "as much help as soon as we can, as long as we're needed," said Navy Captain Roger Welch, chief of US Pacific Command's Joint Interagency Coordination Group in Hawaii. \nIn Singapore, personnel scrambled to complete preparations for the departure of RSN Endurance, a 141m landing ship tank that's carrying heavy-lifting equipment, food and medical supplies. It'll sail about 0600 GMT. \nMeanwhile in Australia, HMAS Kanimbla was set to leave Sydney late yesterday transporting two helicopters, about 300 defense personnel and construction equipment.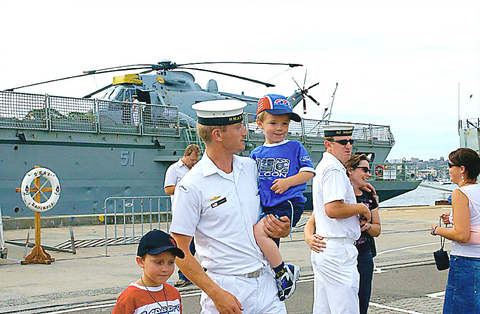 Crew on board HMAS Kanimbla make last minute phone calls and say their last goodbyes to loved ones as they prepare to depart Sydney's Garden Island yesterday.
PHOTO: EPA
Comments will be moderated. Keep comments relevant to the article. Remarks containing abusive and obscene language, personal attacks of any kind or promotion will be removed and the user banned. Final decision will be at the discretion of the Taipei Times.