Sharon hopes for landslide approval of pullout plan
After months of bullying and subterfuge to keep his contentious Gaza withdrawal plan alive, Prime Minister Ariel Sharon is hoping for solid approval in Israel's parliament to finally give it the legitimacy it needs. \nTomorrow's vote, one of the most important in his long political career, is a historic turning point for Israel -- and Sharon -- after 35 years of Jewish settlement expansion in the West Bank and Gaza Strip. \nSharon's aides say victory is at hand, but that just squeaking by won't be good enough. The prime minister has been branded a dictator by hard-line opponents for brushing aside his Likud Party's resounding "no" to withdrawal and firing Cabinet rebels to protect the plan. Only a wide margin of victory could silence such complaints and undercut calls for a national referendum, which Sharon rejects as a stalling tactic. \nIn the frantic countdown to the vote, Sharon has summoned undecided legislators to his office and threatened ministers with dismissal if they don't fall in line. In a counter campaign, lawmakers have been flooded with faxes and e-mails after settler activists distributed a contact list to thousands of supporters. One Likud legislator, Eli Aflalo, says he was so rattled by the relentless pressure that he collapsed and ended up in a hospital. \nThe battle is playing itself out in the streets. \nIn Tel Aviv, a 13.5m billboard announced that 203 Israelis have been killed in Gaza since Israel occupied it in the 1967 Mideast war. \n"Get out of the death strip now," reads the sign put up by the grass-roots Shuvi organization. \nAnother group, hoping to show lawmakers the Israeli majority is in favor of a pullout, is planning a Jerusalem rally on the eve of the vote. \nSettlers plan to bus thousands of supporters to parliament for the vote, rallying around the slogan "Sharon is tearing the nation apart." Security officials have significantly increased protection for the prime minister and lawmakers, fearing possible violence from Israeli hard-liners. \nSettler leaders are fighting hard to stop the Gaza withdrawal, fearing it will set a precedent for settlement dismantling that will spread to the biblical heartland of the West Bank. \n"It is impossible to exaggerate the significance and drama [of the vote]," commentator Sima Kadmon wrote in the Yediot Ahronot daily. \n"On Tuesday, the Knesset will declare the beginning of the end of the Israeli occupation." \nSharon's nemesis in Likud, Cabinet minister Uzi Landau, said the prime minister has acted like a bully. \n"He doesn't even care about the great rift this is going to cause in Israeli society," Landau said. \nIsrael's left, meanwhile, is supporting Sharon with great trepidation, fearing that once 8,800 settlers are removed from their homes in Gaza and four small West Bank settlements next year, there won't be further withdrawals. \nSharon's point man with the Bush administration, Dov Weisglass, has heightened such suspicions, saying recently that the prime minister -- for years the settlers' main patron -- hasn't really changed his views. With Sharon's disengagement plan, some 190,000 of 240,000 settlers in the West Bank will be able to stay put, Weisglass said, implying Israel will keep large parts of that territory. \nSharon himself has said that getting rid of Gaza will help Israel strengthen its hold over most West Bank settlements. \n"If it is only Gaza, it might be a catastrophe," said Yossi Beilin, leader of the dovish Yahad Party and one of Sharon's reluctant supporters. "One day after the withdrawal we will fight him [Sharon] to make sure that Gaza first will not be Gaza last."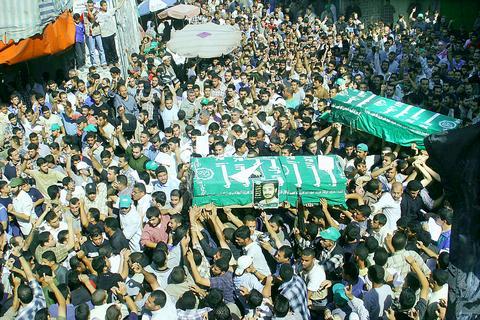 Palestinian mourners carry the coffins of Adnan el-Ghoul, right, 47, and his aide, Imad Abbas, 37, during their funeral procession in Gaza City on Friday. The two leading members of Hamas' armed wing -- the Ezzedin al-Qassam Brigades -- were killed in an Israeli helicopter air strike yesterday.
PHOTO: AFP
Comments will be moderated. Keep comments relevant to the article. Remarks containing abusive and obscene language, personal attacks of any kind or promotion will be removed and the user banned. Final decision will be at the discretion of the Taipei Times.