As New York prepares for Bush, protests gather pace
DEMONSTRATORS As North America's largest city prepares to host the Republican National Convention, people are flocking to the city to offer a differing view
Thousands of activists marched across the Brooklyn Bridge and demonstrators rang handbells at the World Trade Center site, the latest in a growing procession of protests leading up to the Republican National Convention. \nThousands of marchers, forming a line 10 people wide and a kilometer long at times, crossed the bridge from Brooklyn to Manhattan in a march organized by Planned Parenthood. \nLater in the day, several hundred demonstrators formed a loose ring around ground zero in lower Manhattan and rang handbells in a protest against the Bush administration. \nTheir plan was to ring the bells 2,749 times -- one for each victim killed in the Sept. 11, 2001, attack on the trade center -- but the demonstration quickly turned into almost continuous ringing. \n"I'm affected personally, in terms of birth control. I demand and cherish that right," said Sara Breman, a 22-year-old student from Austin, Texas, in the bridge march. \n"Under Bush, that right is being threatened through sex education that teaches only abstinence," said Breman before rolling her bicycle onto the bridge. \nSome of the marchers chanted: "What does democracy look like?" While others answered, "This is what democracy looks like!" \nOnce the protesters crossed the bridge, they headed for a rally at City Hall. Actress Kathleen Turner, state Comptroller Alan Hevesi and Planned Parenthood President Gloria Feldt were among the marchers. \nNew York police said 25 people were arrested in convention-related incidents Saturday, bringing the total for the three days to 311. \nPolice said Saturday's arrests were scattered around the city, including some Starbucks employees who protested in midtown Manhattan, accusing the Bush administration of opposing their attempt to form a union. \nOn Friday night, 264 people were arrested for disorderly conduct in a protest bicycle ride that snaked through the city and passed by Madison Square Garden, where the convention opens Monday. \nThe bike ride represented the first major clash between police and demonstrators converging on the city for the convention. \nLater Saturday, an anti-war group called the ANSWER coalition was encouraging people to gather in Central Park. But the park was peaceful early, with its usual assortment of sunbathers and softball players. \nAnd a group called Ring Out planned to encircle Ground Zero in lower Manhattan and ring bells to honor those who died at the World Trade Center. The group said it intended to show Bush does not speak for attack victims or New Yorkers. \nSaturday's protests were expected to be a mere prelude to yesterday, when a huge anti-war march was to pass by the convention site and end at Union Square Park in Manhattan. \nOrganizers of that march have said it could draw 250,000 people. The city refused to allow a rally in Central Park, but organizers suggested protesters could spontaneously gather there anyway after the march.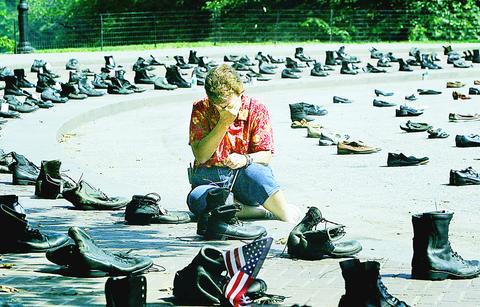 Sue Niederer of Pennington, New Jersey, who lost her son Seth Dvorin in Iraq earlier this year, grieves at a memorial yesterday, in Central Park in New York.
PHOTO: AFP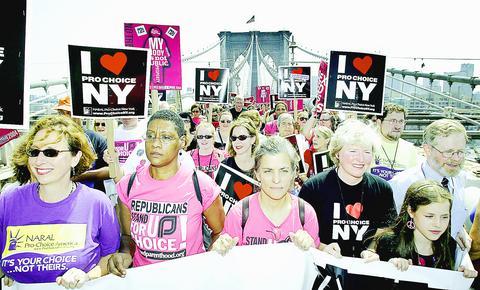 Demonstrators walk across the Brooklyn Bridge during a women's march against US President George W. Bush and his anti-choice policies on abortion yesterday in New York City. The protest comes two days before the opening of the Republican National Convention.
PHOTO: AFP
Comments will be moderated. Keep comments relevant to the article. Remarks containing abusive and obscene language, personal attacks of any kind or promotion will be removed and the user banned. Final decision will be at the discretion of the Taipei Times.