Israel kills seven in attack on Hamas activist
MYSTERY DEVICE The Israeli military operation was unusual in that it did not say how the explosion occurred or what kind of craft was used to deliver the ordnance
Israel set off an explosion in an olive grove near the house of a senior Hamas activist early yesterday, killing five Palestinians and wounding seven, two of them critically. \nThe Israeli military said the Hamas leader was targeted in an operation by the air force, but provided no details. \nIn the past four years of fighting, Israel has carried out scores of targeted attacks on militants, firing missiles from aircraft. \nHowever, Palestinian witness-es said they saw no helicopters or fighter planes at the time of yesterday's explosion outside the home of Ahmed Jabari, the Hamas activist, in Gaza City. \nmysterious strike \nJabari's neighbors said that at around the time of the blast, they spotted an Israeli drone -- an unmanned aircraft used for observation -- in the area. Several men were in an olive grove next to Jabari's house at the time. \nIt was not clear if Jabari was hurt in the blast. \nPalestinian hospital officials said two of the dead were Hamas militants and another was with the Islamic Jihad group. The others were not identified. \nIsrael Radio said Jabari's brother and son were among those killed. \nSeven people were wounded, two critically, hospital officials said. \nIn announcing a targeted attack, the Israeli military usually says how it was carried out, whether by helicopter or warplane. However, yesterday's description was vague. \n"The Israeli Air Force targeted a senior Hamas terrorist in an operation by the Israeli security forces in the northern Gaza Strip," the statement said. \nSETTLEMENTS \nOn Tuesday, Sharon approved the construction of 1,000 new housing units in four large West Bank settlements. \nThough the settlement construction violates the US-backed "road map" peace plan, US reaction was muted compared to earlier statements denouncing settlement building. \nIn Washington, US State Department spokesman Adam Ereli said, "Our concern is to determine whether these tenders are consistent with Israel's commitments" to stop construction. \nThe text of the "road map" is clear: Israel "freezes all settlement activity [including natural growth of settlements]." \nHowever, the Israelis note that Bush acknowledged that even in a peace arrangement, Israel would not be expected to give up main settlement blocs in the West Bank. \nIn a phone conversation with Egyptian President Hosni Mubarak on Tuesday, Sharon said he would go ahead with the Gaza pullout, Sharon's office said. Egypt has been working for a smooth transition of power after the Israeli pullout. \nMubarak discussed "the deteriorating situation in Palestinian territories, especially in Gaza Strip," according to Cairo's Middle East News Agency, and appealed for an end to violence on both sides. \nIn the West Bank city of Nablus on Tuesday, soldiers shot and killed a 9-year-old boy, Palestinians said. \nThe area was under Israeli curfew. The military said soldiers opened fire three times in Nablus on Tuesday but did not know of any deaths. \nThe military also said that soldiers found a workshop in Nablus where Palestinians were making rockets. \nUp to now, militants have fired homemade rockets only from Gaza.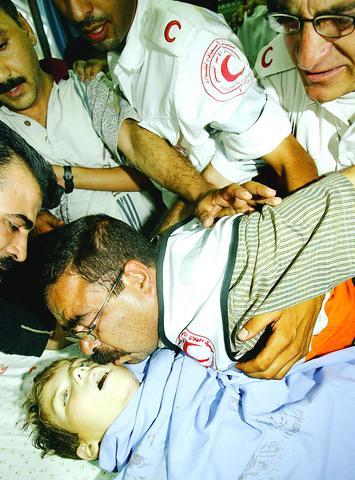 The father of nine-year-old Palestinian boy Khaled al-Osta, who is working as a paramedic, cries over the body of his son killed by Israeli soldiers during clashes in the West Bank city of Nablus, Tuesday.
PHOTO: REUTERS
Comments will be moderated. Keep comments relevant to the article. Remarks containing abusive and obscene language, personal attacks of any kind or promotion will be removed and the user banned. Final decision will be at the discretion of the Taipei Times.