Bosnia graves may hold hundreds of Muslims
ETHNIC CLEANSING Thirty-five bodies were exhumed from the waste disposal site of a coal mine, while another team found 132 corpses in eastern Bosnia on Tuesday
Bosnian forensic experts recovered remains of three dozen people in a mass grave covered with coal mine waste on Tuesday and said it might hold many hundreds of Muslims missing from the area for 12 years. \n"These victims are men and clothes and shoes found inside indicate that they are civilians," said Amor Masovic, head of the Commission for Missing People of Bosnia's Muslim-Croat federation, whose team led the exhumation work. \n"According to our information, they are inmates from the notorious KP Dom prison and inhabitants of Foca, Miljevina and [the nearby village] Jelec killed in April and May of 1992. Inmates were killed in September and October," Masovic said. \nAbout 1,500 Muslims in the ethnically mixed municipality of Foca, some 40km southeast of Sarajevo, went missing at the start of Bosnia's 1992-1995 war in the first wave of "ethnic cleansing" by Serb forces, ex-Yugoslav army and paramilitaries. \nAbout 600, including more than 300 inmates from the KP Dom detention camp in Foca, remain unaccounted for, according to figures from a Sarajevo institute investigating war crimes. Twenty-eight bodies were found in a mass grave nearby last week. \nAnother commission team completed work on a separate mass grave in eastern Bosnia on Tuesday. That group found 132 complete and 102 incomplete bodies of Muslims killed in Bratunac in 1992 and in the 1995 Srebrenica massacre of 8,000 people. \nThe Hague-based UN war crimes tribunal for former Yugoslavia has convicted several Serbs for crimes committed in the Foca area. Others are awaiting trial or are at large. \nThe commission team found 35 bodies about 2m below the surface after two days of work at a small section of the waste disposal site of the coal mine in Miljevina, near Foca. \nCourt officials, forensic experts and workers sifted through well preserved human bones and skulls, clothes and shoes after a mechanical digger removed the upper layer of earth from a 100m2 section of the plateau. \n"At this micro-location of the site we expect to find about 60 bodies, but the total area we are going to search covers the size of 10 soccer fields," Masovic said, but added it was difficult to say how many victims might be found in the end. \nHe said spent bullet casings found in the grave indicated that some victims were killed at the site. \nAvdo Zametica and his wife Zubejda, who returned to Jelec after the war, hope the excavations will uncover news about the fate of their twin sons. \nAfter capture by Serb forces and detention at several locations, witnesses told them the brothers were last seen in mid-September 1992 in KP Dom, when they were told to pack their things and prepare for a prisoner exchange. \n"Every day that passes by is more and more difficult," Zubejda said sobbing, sitting in front of their half-rebuild house in the village. \nWestern peace officials say punishing perpetrators for crimes committed in a war in which 200,000 people, mostly Muslims, were killed and finding thousands of missing people is one of the main conditions for reconciliation. \nOf almost 29,000 people missing since the war more than 17,000 have been found and more than 12,000 identified. \nBut in Foca, often called a "black spot", this process is slow. It had a population of close to 40,000 before; Muslims made up a slight majority but only 3,500 have since returned to rural areas.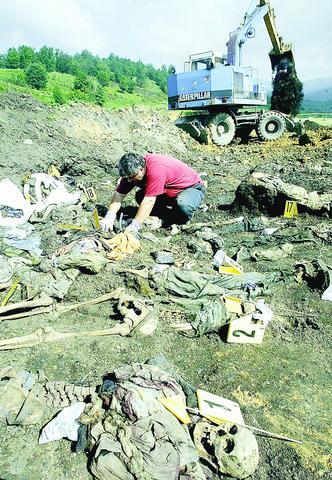 Forensic experts and workers sift through human remains, clothes and shoes at a mass grave in a waste disposal site near the eastern Bosnian town of Miljevina on Tuesday. After two days of work they found 35 bodies of victims believed to be Muslims killed by Serb forces at the beginning of the 1992-1995 war in the municipality of Foca.
PHOTO: REUTERS
Comments will be moderated. Keep comments relevant to the article. Remarks containing abusive and obscene language, personal attacks of any kind or promotion will be removed and the user banned. Final decision will be at the discretion of the Taipei Times.