India's budget targets the poor
REDUCING POVERTY The new government's first budget includes billions of dollars of new spending aimed at improving the lot of the nation's poorest
India's left-backed government vowed to foster investment to maintain strong economic growth and cut the fiscal deficit on yesterday in an expansionary first budget with billions of dollars of new spending for the poor.
Finance Minister Palaniappan Chidambaram's budget was less inflationary than some analysts had feared but, as expected, included no major measures to tackle a worrying fiscal deficit that is seen as a challenge to sustained high growth.
Instead, it relied largely on growth -- targeted at 7 to 8 percent for the year to March, 2005 -- to bring the deficit down to 4.4 percent of gross domestic product (GDP) from 4.6 percent.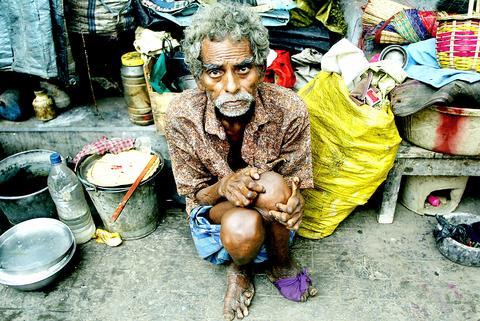 Basanta Das, an Indian homeless man, begs for food on a pavement in the eastern Indian city of Calcutta yesterday. Tens of thousands of people live on the streets in Calcutta, often working as laborers. India's new communist-backed government unveils its annual federal budget yesterday, the first real test of it its pledge to increase spending on the poor while staying fiscally responsible.
PHOTO: REUTERS
Announcing a raft of programs for education, health, jobs farmers, and housing, he said boosting investment and business was vital to achieve his growth target and fight poverty.
"The key to growth is investment," he told parliament.
"It is my goal to make the environment in India attractive to investors," he said, adding the government would form a new investment commission.
The rupee was largely steady, but the main Bombay stock index surrendered early gains on increased investment in the power and telecoms sectors when Chidambaram announced a new turnover tax on share trading to replace a capital gains tax.
"It appears to be a very carefully balanced act," political analyst Mahesh Rangarajan said. "He is targeting the poor in line with the government's... programme, while committing himself to fiscal prudence. The question is where will the money come from for these measures."
Most of the measures were largely expected, including a rise in tax on services -- which account for 50 percent of GDP -- to 10 percent from 8 percent and the abolition of some excises, including those on tractors and computers.
Chidambaram did not impose a service tax on road transport, which would have stoked inflation in the vast nation, as analysts had feared. But he increased excises on steel.
The Congress-led coalition government relies on communist support and the budget included massive social spending for the millions of poor who unexpectedly swept it to power in May.
Announcing extra spending of 100 billion rupees (US$2.2 billion), Chidambaram imposed a 2 percent tax surcharge to raise up to US$1.1 billion for extra education spending and a revival of a rural infrastructure fund with US$1.9 billion.
"The enhanced spending he has spoken of so far means he has to juggle his numbers somewhere and so the markets may not take it positively," said Raja Bandyopadhyay, of Birla Sunlife Securities in Bombay.
Analysts also said the government could struggle to implement its ambitious social programs -- including a "new deal for rural India -- because of the country's inadequate infrastructure and glacial bureaucracy.
Comments will be moderated. Keep comments relevant to the article. Remarks containing abusive and obscene language, personal attacks of any kind or promotion will be removed and the user banned. Final decision will be at the discretion of the Taipei Times.