Sensational French pedophilia trial ends with 10 convictions
SICKOS The star witness kept changing her mind about who had been involved in the child sex ring, but the case that had fixated France is now over
Ten of 17 defendants were convicted yesterday of raping and abusing a group of children in a high-profile pedophilia case that had riveted France for weeks.
Sentences for the defendants convicted of participating in group rapes of children in the northern town of Outreau between 1995 and 2000 ranged from a suspended 18-month sentence to 20 years in prison.
Seven defendants were acquitted by the court in the Pas-de-Calais region.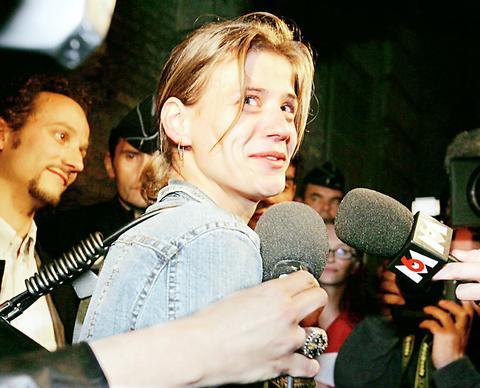 Karine Duchochoy leaves the court building in Outreau, France after being cleared of charges in a pedophilia trial, yesterday.
PHOTO: REUTERS
Central to the case was Myriam Delay, an unemployed mother and key defendant, who admitted to sexually abusing children. Based on her accusations, 13 other defendants were kept behind bars for up to three years. She was sentenced to 15 years imprisonment.
During testimony on May 19, Delay announced she had wrongly accused others. Then, a few days later, on May 24, Delay retracted her testimony and re-accused those whose names she had cleared, saying the entire group had acted together and "ruined children's lives."
The case, involving allegations of sexual abuse, torture and bestiality, has shattered the lives of the defendants. One committed suicide while behind bars; others lost custody of their children.
Delay, her husband Thierry and two neighbors -- Aurelie and David Delplaque -- admitted during questioning to abusing children, officials said. Delay's husband was sentenced to 20 years in prison. The Delplaques were sentenced to four and six years in prison, respectively.
More than 100 witnesses, including police officers, doctors and some of the 18 alleged victims -- ages 3 to 18 at the time -- appeared in court for trial that started May 4.
The Delay's 10-year-old son was among the witnesses and alleged that he had been raped by most of the defendants and had been filmed in scenes involving pedophilia and bestiality.
Comments will be moderated. Keep comments relevant to the article. Remarks containing abusive and obscene language, personal attacks of any kind or promotion will be removed and the user banned. Final decision will be at the discretion of the Taipei Times.