Srebrenicans seek Dutch redress
They lost their sons and husbands in the brutal ethnic violence of the Bosnian war nearly a decade ago. Now the mothers of Srebrenica are in the Netherlands seeking compensation from the Dutch government, which they blame for not stopping Serbs attackers from murdering their Muslim loved ones.
Nearly 50 relatives who survived the July 1995 massacre in the eastern Bosnian enclave, a UN-declared safe area at the time, came to the Dutch seat of government Thursday to press their case.
In a letter to the Dutch Foreign Ministry, their attorneys asked for US$2.4 billion on behalf of 9,000 to 10,000 survivors, alleging that the Dutch failed to meet their international legal obligations to prevent genocide.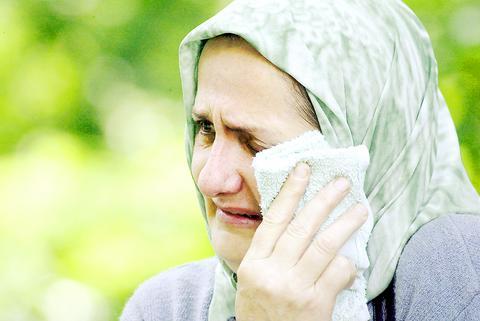 A Bosnian woman, members of whose family went missing during the 1995 Srebrenica massacre, wipes away tears as forensic experts unearth bodies on June 16.
PHOTO: REUTERS
At least 7,500 Muslim men were systematically slaughtered by Bosnian Serb soldiers during a few days of killing at the end of the 1992-1995 Bosnian war, the first genocide in Europe since World War II. Several hundred Dutch peacekeepers were unable to stop a Serb invasion and the subsequent massacre that unfolded.
"No amount of money could bring back their lives, but these people are completely destroyed after the brutal deaths of their family," said Semir Guzin, a lawyer from Mostar, Bosnia, who represents the families in the lawsuit and was also in The Hague.
"The Dutch government gave the orders; now they need to live up to the consequences. The only way is to compensate the victims," Guzin said.
A prior Dutch government accepted blame for the failed Bosnian peacekeeping mission, a painful and sensitive chapter of recent Dutch military history. The entire Dutch government of former prime minister Wim Kok resigned in April 2002, following a report by the national Institute for War Documentation which placed partial blame for Srebrenica with the government.
An official parliamentary inquiry a year later called the Dutch peacekeeping mission an ill-considered attempt to increase Dutch stature internationally.
Guzin said that at the critical moment when Serb forces attacked the Srebrenica enclave, the Dutch state decided to abandon its UN mission to protect some 30,000 Muslim refugees sheltering at their UN base. Dutch peacekeepers then did little more than look on as Serb forces separated men from women and hauled them off to killing sites.
Comments will be moderated. Keep comments relevant to the article. Remarks containing abusive and obscene language, personal attacks of any kind or promotion will be removed and the user banned. Final decision will be at the discretion of the Taipei Times.