Uzbek government starts to focus on IMU's actions
Granted amnesty by the Uzbek government, Uigun Saidov turned in his Kalashnikov and sat back down at his pottery wheel. \nHe was returning to his Central Asian hometown after years on the run because he was part of an al-Qaeda-linked terror organization that joined the fight against US-led forces in Afghanistan that toppled the Taliban regime. \nDespite the government amnesty, Saidov was unrepentant about the aims of his former comrades-in-arms -- hundreds of whom he said still are hiding in Afghanistan and Pakistan. \n"The Islamic Movement of Uzbekistan is in opposition to the government and its aim is to create an Islamic state," Saidov told reporters. The man, who looks younger than his 33 years, said he still believed in that goal. \nUzbekistan was shaken last week by four days of attacks and explosions that officials say killed at least 47, including 33 alleged terrorists. \nA top anti-terror official has said the attacks were linked to the Wahhabi sect of Islam believed to have inspired Osama bin Laden. In the past, Uzbek officials have used that label when talking about the IMU. \nThe IMU was blamed for an alleged failed assassination attempt on President Islam Karimov in 1999 in which at least 16 others were killed. The organization also has been linked to incursions and kidnappings throughout Central Asia. \nIn Tashkent, the capital, Uzbek Foreign Minister Sadyk Safayev told journalists Sunday that he believed "the backbone of the IMU" had been broken during the anti-terror operations in Afghanistan after the Sept. 11 attacks. But he said "there might be several remnants of the IMU here." He gave no details. \n"As a coordinated, centralized structure, I don't see any serious threat," he said. \nAuthorities have kept Saidov and his family under strict surveillance since his December return. After learning of the amnesty offer, he turned himself in at the Uzbek consulate in Karachi, Pakistan, along with his wife and three young children. \nSaidov's father looked on with distrust as his son spoke to a reporter at the gates of the family's old one-story house in the outskirts of Navoi, 500km south of Tashkent. \nWearing a black-and-green shirt and jogging pants, Saidov began to talk only after a thorough check of his visitors' identification documents. \nHe said he had been trained at an IMU camp in neighboring Tajikistan's Tavildara region -- a former stronghold of the Tajik Islamic opposition that fought the secular government in a mid-1990s civil war. \nLater, he said he was flown to Afghanistan in a military helicopter belonging to Russian troops stationed in Tajikistan. \n"Our leader Juma Namangani had good ties with Russian military," he says. "They supplied us with weapons, clothes and other things." \nThe US military has said Namangani was killed in Afghanistan in late 2001, but no evidence has been publicly shown. Saidov said he did not know whether Namangani was dead or alive. \nHe said, however, that he believed reports last month that Pakistani troops injured the IMU's other top leader, Tahir Yuldash, in the Waziristan area on the Afghan border. \n"He is there," Saidov said, adding that some 500 IMU fighters were still on the loose in Afghanistan and Pakistan. \nHowever, Saidov denied that the IMU was behind the recent Uzbek attacks. \n"I don't know whose hand that was. It's somebody new," he said. \nNearby, another man recently given amnesty after 3 years in an Uzbek prison for allegedly being a Wahhabi also denied involvement of that religious sect.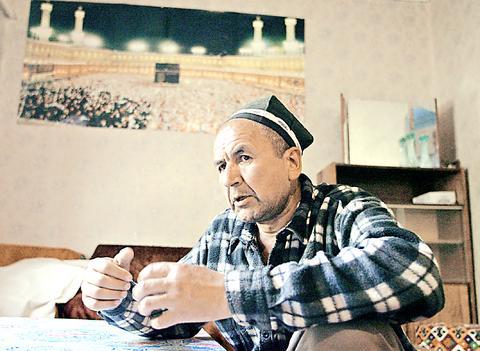 Uzbek Normurod Uroqov, 50, sits in his home in Navoi, 500km south of Tashkent, Uzbekistan's capital, on Sunday. Uroqov was talking about his arrest and jailing in 2000 as an alleged member of the fundamentalist Islamic Wahhabi sect, that authorities have blamed for this week's violence that killed over 40 people.
PHOTO: AP
Comments will be moderated. Keep comments relevant to the article. Remarks containing abusive and obscene language, personal attacks of any kind or promotion will be removed and the user banned. Final decision will be at the discretion of the Taipei Times.