Sharon warns Arafat as killing continues
A Palestinian gunman infiltrated a Jewish settlement in the West Bank under cover of darkness yesterday, killing a settler and wounding his daughter before soldiers shot him dead, an army spokesman said. \nIn earlier violence, the Israeli army killed three Palestinians in confrontations in the West Bank and Gaza Strip and police stormed Jerusalem's al-Aqsa mosque, one of Islam's holiest sites, to battle stone-throwers after Friday prayers. \nDescribing the attack on the settlement of Avnei Hafetz near the West Bank city of Tulkarm, army Captain Jacob Dallal said an armed militant broke through its perimeter fence at 12:45am and approached a row of houses. \nThe militant went to a house with its lights on, broke a window and fired through it, wounding a 12-year-old girl, he said. \n"The father had meanwhile grabbed a pistol and went outside to see what was going on. He found the terrorist but was shot by him and died later," Dallal said. "An army unit arrived, engaged the Palestinian and shot him dead." \nThere was no immediate claim of responsibility for the attack, which came amid high tensions following Israel's assassination in Gaza on March 22 of Sheikh Ahmed Yassin, leader of the militant group Hamas. \nIn a series of newspaper interviews on Friday, Israeli Prime Minister Ariel Sharon threatened Palestinian President Yasser Arafat with assassination -- drawing criticism from Israel's main ally, the US. \nSharon, who is under fire in Israel over his plan for a unilateral Gaza pullout and over a bribery scandal, also said Sheikh Hassan Nasrallah, the leader of Lebanon's Hezbollah guerrilla group, could be targeted. \n"I wouldn't suggest either one of them should feel secure. I wouldn't propose that any insurance company give them coverage," Sharon told Israel's Haaretz daily. \n"Anyone who kills a Jew or harms an Israeli citizen, or sends someone to kill Jews, is a marked man. Period," he said. \nIsrael accuses Arafat of fomenting violence, which he denies. \nIsrael's government declared in September that Arafat -- holed up in his battered headquarters in the West Bank city of Ramallah for more than two years -- should be "removed." \nBut the elderly president, who is regarded by Palestinians as a symbol of their struggle for statehood, has scoffed at such threats, saying he would welcome "martyrdom." \nResponding to Sharon's comments, Deputy US Secretary of State Richard Armitage told reporters in Washington: "Our position on such questions -- the exile or assassination of Yasser Arafat -- is very well known. We are opposed and we have made that very clear to the government of Israel." \nSharon has acknowledged he has promised the US not to harm Arafat. \nOutside al-Aqsa mosque in Jerusalem's walled Old City, Israeli police used rubber bullets and stun grenades to disperse stone-throwers and arrested 14 after Friday Muslim prayers.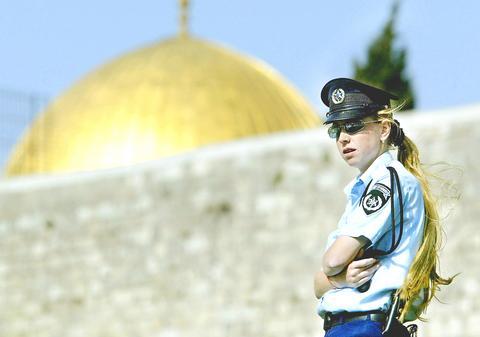 With the Dome of the Rock mosque in the background, an Israeli police officer watches over the Western Wall plaza following clashes between police and Palestinian s inside the al-Aqsa mosque compound on Friday.
PHOTO: AP
Comments will be moderated. Keep comments relevant to the article. Remarks containing abusive and obscene language, personal attacks of any kind or promotion will be removed and the user banned. Final decision will be at the discretion of the Taipei Times.