Pakistan army tries to win hearts and minds on the frontier
A Pakistan army helicopter dropped leaflets in a remote tribal region near the border with Afghanistan, urging tribesmen to help flush out suspected al-Qaeda fugitives, residents and officials said Saturday.
The leaflets, in both Urdu and Pashto language, were dropped Friday in South Waziristan, the scene of a major military operation last month against al-Qaeda holdouts and tribal sympathizers which left more than 120 people dead.
"Tribesmen are great friends of the Pakistan army," read the leaflet. "These foreigners are misusing your hospitality. They are not your friends ... they are terrorists. You should help your army to flush them out."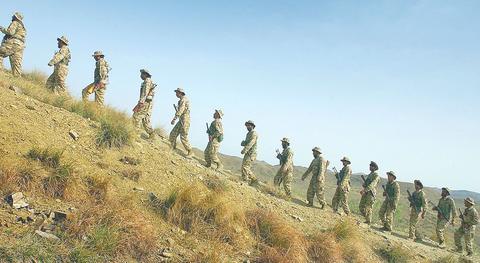 Afghan Border Police patrol a stretch of road in the Checkpoint Number 4 area near Khost, 2km from the Pakistani border, yesterday. The porous and mountainous border area between Pakistan and Afghanistan has been the subject of an intensifying search for al-Qaeda and Taliban fugitives.
PHOTO:AP
Residents were reading the leaflets, but it wasn't clear what response the appeal would get. The fact the leaflets were dropped by air demonstrated the security forces' reluctance to travel in the area.
Many locals resent the presence of the army in this semi-autonomous region, where dozens of homes of people suspected of harboring foreign terrorists were demolished and other properties were damaged in the two-week military operation -- Pakistan's largest since it became an ally in the US-led war on terror in late 2001.
At least a dozen civilians were killed in the fighting, near the main South Waziristan town of Wana -- about 300km southwest of Pakistan's capital, Islamabad -- along with 63 foreign and local militants and at least 48 Pakistani troops and government officials.
Some 163 suspects were captured, but hundreds more militants escaped. An Uzbek militant leader, Tahir Yuldash, believed injured, was among those who escaped the military's net.
Government officials yesterday were meeting with the tribal elders of the Yargul Khel and Zali Khel tribes, which have been accused of harboring foreign militants. Both tribes said they would not allow any foreigners to hide in their areas in the future, officials said.
However, Rahmatullah Wazir, a government official in Wana, threatened the "toughest action" against tribesmen if they did not expel foreign terrorists from their areas before a Thursday deadline.
"We have received assurances from tribal elders, but we will see how they act," he told reporters. He gave no more details of what action the tribesmen would face.
After the end of the military operation on March 28, Pakistan withdrew its troops from a target area near Wana, but retained thousands of forces in South Waziristan, which a military spokesman said remain "combat ready."
Comments will be moderated. Keep comments relevant to the article. Remarks containing abusive and obscene language, personal attacks of any kind or promotion will be removed and the user banned. Final decision will be at the discretion of the Taipei Times.