Diplomatic row mars rescue of six British cavers
Six British cavers in Mexico emerged blinking and bedraggled into the center of a diplomatic row on Thursday after being rescued from an 11-day underground ordeal. \nFour of the cavers are members of the British armed forces and the Mexican government is upset that it was not told in advance what they were doing on its soil. \nDivers battled for more than six hours to rescue the cavers from the flooded cave, removing them one by one through a labyrinth of underground tunnels. \nEmerging tired but in high spirits, the Britons said they had not feared for their safety but were red faced over the international attention. \n"It wasn't scary, it was inconvenient," said Jonathan Sims, who left the British armed forces two years ago. \nAsked about the diplomatic exchanges sparked by their plight, cave diver Charles Milton laughed nervously. "It's embarrassing," he said. \nLate on Thursday evening, Mexican immigration undersecretary Armando Salinas said the Britons would have a medical exam then be handed over to immigration authorities for questioning. \n"Early tomorrow, the legal proceedings will begin," he told a news conference. "Statements will be taken regarding their activities to determine if these people, in Mexico legally as tourists, violated the general law on population." \nThe Mexican senate approved a motion on Thursday to summon Interior Minister Santiago Creel to appear before legislators in coming days and explain the Britons' presence. \nThere are 13 expedition members in all, most from the British military's Combined Services Caving Association. Six of them, all experienced cavers, became trapped by rising waters two days into a routine exploration trip. \nPresident Vicente Fox has asked for a "swift explanation" of what the foreign soldiers were doing in the cave complex, one of the most extensive in the world. The country does not allow foreign military exercises on its soil. \nThe divers said they were on a simple cave exploring expedition. \n"The military considers that caving, canoeing, rock climbing and offshore sailing are activities that develop people's characters and leadership skills," said Sims. \nRelations with Britain are already sensitive because of allegations it helped the US spy on Mexico's UN mission in the run-up to the Iraq war. \nThe cavers were not in imminent danger and used a camping stove to cook pasta with cheese and instant chocolate cake. They had plenty of light and dry clothing, said expedition leader Major Steve Whitlock. \n"We would have been thinner if we'd stayed another week, but we could have done it," said Sims.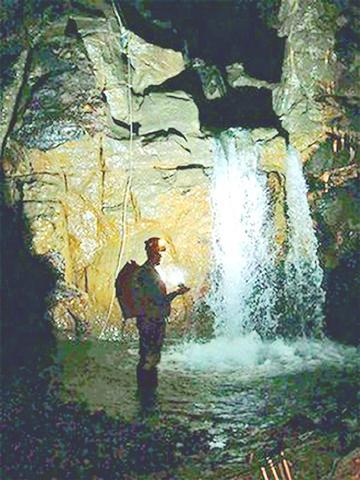 An unidentified caver stands by a waterfall in the Rio Korwa section of the Alpazat Cave complex in Mexico, where five British military cavers and a civilian have been trapped for more than a week after rising water blocked their exit.
PHOTO:EPA
Comments will be moderated. Keep comments relevant to the article. Remarks containing abusive and obscene language, personal attacks of any kind or promotion will be removed and the user banned. Final decision will be at the discretion of the Taipei Times.