Iraqi violence continues unabated; al-Tikriti dies
LACK OF SECURITY A series of bombings killed at least three Iraqis and one US soldier, while a former regional commander and Baath loyalist died in hospital
An explosion in Baghdad near a US patrol killed a soldier and an Iraqi interpreter, the military said, while a car bomb blew up near a US Air Force base north of the capital yesterday, killing two Iraqi civilians and wounding 25 others, an Iraqi Civil Defense Corps official said.
The vehicle explosion occurred outside the base near the town of Balad, about 80km north of Baghdad, the official, Saeed Kadhim, said. The wounded were taken to nearby hospitals, he said.
US officials in Baghdad could not confirm the attack.
Kurdish and Arab Iraqis celebrate Nawroz (Kurdish new year) at the historic site of Dar Qisra, 30km south of Baghdad on Sunday. This year's celebrations are hardly visible in Baghdad amid tight security situation after a year since coalition forces started the war to topple former Iraqi president Saddam Hussein.
PHOTO: EPA
The explosion in Baghdad wounded three US soldiers, besides the deaths, the military said in a statement. The attack on the 1st Armored Division patrol occurred Sunday in the capital's western Abu Ghraib district. The names of the dead and wounded were withheld pending notification of their families.
On Sunday in Baghdad, rebels fired three rockets toward the US-led coalition headquarters. One hit inside the compound, wounding a US soldier. Two landed outside the heavily guarded area, killing two Iraqi civilians and wounding five, a US official said, speaking on condition of anonymity. A doctor at nearby Yarmouk Hospital said one person died and 10 were wounded.
Also Sunday, about 50 people, many of them Arab journalists, demonstrated in Baghdad to protest the shooting deaths, allegedly by American soldiers, of an Iraqi cameraman and correspondent from the Arab satellite television station Al-Arabiya. They gave a letter of protest to officials at the coalition headquarters.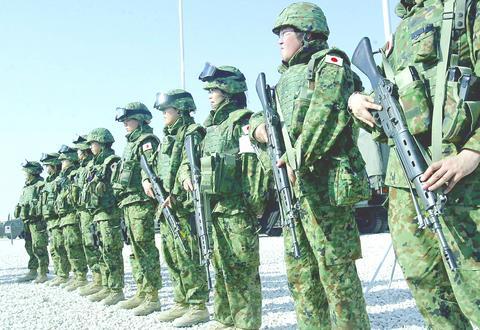 A group of female Japanese soldiers stands at attention inside of the Japanese base camp shortly after arriving in Samawa, Iraq on Sunday. Another contingent of Japanese soldiers arrived in Iraq yesterday.
PHOTO: EPA
The military has said it is investigating the shootings late Thursday. It reported the shooting death of an Iraqi at a checkpoint, and the circumstances of that death matched details reported by Al-Arabiya about the deaths of correspondent Ali al-Khatib and cameraman Ali Abdel-Aziz.
The latest violence came after the first anniversary Saturday of the start of the war that ousted former president Saddam Hussein.
Meanwhile, Adel Abdullah Mahdi al-Duri al-Tikriti, a Baath party regional commander who was number 52 on the US list of 55 most wanted Iraqis, died in his hometown of al-Dour, reports said yesterday.
Travelers arriving in Tikrit from al-Dour said al-Tikriti died Sunday in a hospital in the town, 30km southeast of Tikrit.
US forces had captured al-Tikriti in May last year. He was transferred from his prison cell at Baghdad airport last month to a hospital in al-Dour after he suffered a kidney failure.
Comments will be moderated. Keep comments relevant to the article. Remarks containing abusive and obscene language, personal attacks of any kind or promotion will be removed and the user banned. Final decision will be at the discretion of the Taipei Times.