Hong Kong legislator gets trapped at airport
SCRUM As Martin Lee Chu-ming returned from a trip to the US, the pro-democracy legislator found himself at the center of a shouting match and unable to leave
A top opposition lawmaker was trapped in Hong Kong's airport yesterday for nearly half an hour as his supporters and pro-Beijing protesters shouted at each other when he returned from a US trip during which he discussed the territory's fight for full democracy, police said.
Martin Lee Chu-ming (李柱銘) was met at the airport with shouts of "traitor" by pro-Beijing demonstrators, while others called him a "running dog" for foreign countries, footage from local television showed.
Lee's supporters greeted him with a banner that read "Patriotic hero for democracy," and began yelling back at his deriders.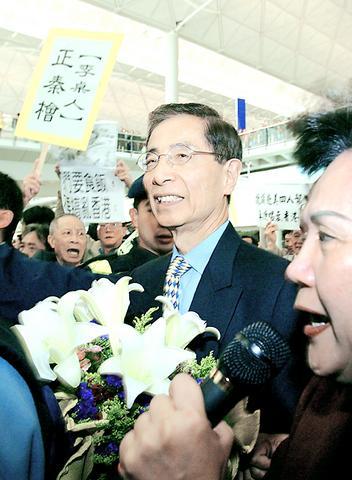 A group of pro-China activists holds placards and surrounds democracy activist Martin Lee Chu-ming at Hong Kong's airport yesterday.
PHOTO: REUTERS
The verbal sparring among the crowd of about 100 hemmed Lee in for nearly 30 minutes at the airport, police spokesman T.K. Ng said. He was eventually led out by a police escort.
The pro-democracy lawmaker headed a delegation to Washington this week to brief US administration officials and senators on Hong Kong's battle for democratic reform. He met with US Secretary of State Colin Powell and National Security Adviser Condoleezza Rice.
The visit drew strong protests from Beijing officials. Some called Lee "a clown" and accused Hong Kong politicians of inviting foreign meddling in China's affairs.
Lee said the visit was only meant to communicate Hong Kong's situation to US officials, adding he will continue to do what he thinks is right for the former British colony, returned to China in 1997.
"Many officials' criticisms went too far and were improper," Lee said.
"Looking at what the central government leaders said in the past two days, they didn't say Hong Kong cannot have democracy," he said.
Many Hong Kongers are demanding the right to pick their leader and all lawmakers.
Hong Kong's political leader was elected by an 800-member elite committee loyal to Beijing, and ordinary citizens were allowed to choose only 24 out of 60 lawmakers in the 2000 elections -- though that number will rise to 30 in the next contest in September.
Full democracy is set out as a constitutional goal in Hong Kong, but there is no timetable.
Comments will be moderated. Keep comments relevant to the article. Remarks containing abusive and obscene language, personal attacks of any kind or promotion will be removed and the user banned. Final decision will be at the discretion of the Taipei Times.