Malaysian cleric foresees heaven for party's voters
ULTIMATE REWARD Nik Aziz Nik Mat, a religious leader esteemed by Malay Muslims, has drawn fire for saying voters `will go to heaven for choosing an Islamic party'
Lighting a torch under one of Malaysia's most volatile issues, the spiritual leader of the fundamentalist Islamic opposition said people who vote for it in upcoming elections will go to heaven and implied that government supporters are destined for hell.
Nik Aziz Nik Mat, a 72-year-old cleric held in high esteem by millions of ethnic Malay Muslims, made the comments in a weekend newspaper report, days after election officials warned candidates not to bring religion into the campaign at the risk of disqualification.
Opening another religious front, government officials yesterday slammed the fundamentalists for criticizing Prime Minister Abdullah Ahmad Badawi for not leading Islamic prayers at his mother's funeral last month, calling the attack petty and un-Islamic.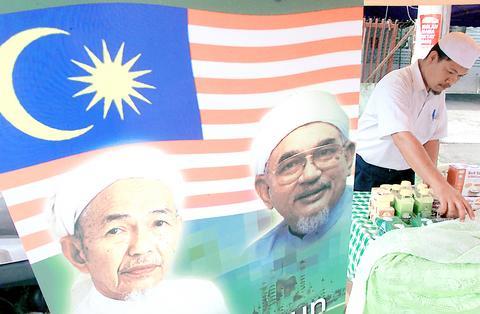 A member of Malaysia's opposition Pan-Malaysian Islamic Party stands behind a poster showing the party's leaders -- from left, Nik Aziz Nik Mat and Hadi Awang -- on display in downtown Kuala Lumpur yesterday.
PHOTO: AP
Religion and ethnicity are multicultural Malaysia's most sensitive issues, and contributed to race riots 30 year ago that still resonate in today's society. Political parties remain largely divided along ethnic lines, though both the opposition and the government are in multi-ethnic coalitions.
"It is stated in the Koran that those who rally behind Islam are also those who want to live under divine laws laid down by Allah," Nik Aziz said.
"And naturally, they will go to heaven for choosing an Islamic party, while those who support un-Islamic parties will logically go to hell."
Abdullah's secular government claims the fundamentalists twist Islam for political gain and foment extremism, while the opposition charges that the government is immoral and not Islamic enough.
Former Prime Minister Mahathir Mohamad, who retired in October after 22 years in power but has vowed to help Abdullah win the election, responded to the claim by taunting his old foe.
"I want to ask Nik Aziz, when is he going to heaven to see if those who voted for the party made it there?" Mahathir, 78, said.
"If it is true, then rogues and rapists will surely go to heaven if they join the party and vote for it," Mahathir said.
Abdullah called elections this week, which will be held on March 21. Days earlier, the head of the Election Commission, Abdul Rashid Abdul Rahman, warned that laws state that candidates who promise favors from God could lose their parliamentary seats.
However, the opposition and government have fought political debates on the issue before, and no punitive action has been taken.
Both Nik Aziz's Pan-Malaysia Islamic Party and Abdullah's United Malays National Organization compete for votes from ethnic Malay Muslims, who are about 60 percent of the country's 25 million population.
Malaysia is one of the Islamic world's most progressive and dynamic countries, with the Muslim majority living peacefully alongside large ethnic Chinese and Indian minorities, who are mostly Buddhists, Christians and Hindus, under a system of both secular and religious laws.
In recent years, the fundamentalists have gained influence in the conservative Muslim-dominated rural areas in Malaysia's north and east. They control two of Malaysia's 13 states and aim to claim more after this election.
But national power is almost certainly out of reach, with Abdullah's 14-party coalition holding a huge parliamentary majority.
The Islamic party wants to make Malaysia an Islamic state and advocates a Taliban-style criminal code, including execution by stoning -- policies that push non-Muslims and liberal Muslims into supporting the government.
Comments will be moderated. Keep comments relevant to the article. Remarks containing abusive and obscene language, personal attacks of any kind or promotion will be removed and the user banned. Final decision will be at the discretion of the Taipei Times.