Khatami: `deadlock' has arrived
DEAD END Conservatives' exclusion of reformists from elections has caused a worsening political crisis in Iran
Iran's embattled president admitted Saturday he had failed to reverse a move by hard-liners to disqualify thousands of candidates from forthcoming elections, as his government warned that the polls cannot go ahead and members of parliament vowed they were poised to resign. \n"We have reached a deadlock with the Guardian Council," Iranian President Mohammad Khatami said, as the bitter crisis overshadowed the Islamic republic's 25th anniversary celebrations. \n"This government will only organize free and competitive elections," he was quoted as saying by the state news agency IRNA during a wreath-laying ceremony at the mausoleum of Iran's revolutionary leader Ayatollah Ruhollah Khomeini. \nInterior Minister Abdolvahed Mussavi-Lari said the stand-off meant it was now impossible to hold the Feb. 20 elections to the parliament, or Majlis, on schedule. \n"We have reached a dead end. The government's efforts have gone nowhere," he said. \n"The possibility of organizing a free and competitive election does not exist, and we do not consider this election to be legitimate," Mussavi-Lari said. \nIRNA said the cabinet would hold an emergency session Saturday, but its options appeared to be running out. \nLate Friday, the conservative Guardian Council, a powerful political watchdog, stood by its ban on nearly 2,500 candidates, even though supreme leader Ayatollah Ali Khamenei had ordered it to be less stringent. \nThe 12-member body, which screens all laws and candidates for public office, had initially barred 3,605 out of some 8,000 would-be members of parliament, prompting furious allegations that powerful hard-liners were guilty of trying to rig the polls. \nMussavi-Lari said in the new blacklist, the number of disqualified members of parliament had even risen from 83 to 87. \nIn addition, none of candidates who are among the reformist camp's most prominent figures have been reinstated. \n"Out of the 1,160 who have been reinstated by the Guardian Council, barely a handful of them are reformists," Mohsen Armin, a prominent reformist Member of Parliament, said. \nMohammad Reza Khatami, the younger brother of the president and head of the main reformist party, the Islamic Iran Participation Front, said members of parliament had been left with the "serious intention" to walk-out from the Majlis. \nMohammad Reza Khatami is among those still on the blacklist. \nIn addition, all of Iran's 28 provincial heads, several vice presidents and cabinet ministers, the head of the election commission and other reformist public servants have threatened to walk out. \nThe interior minister said the provincial governors were "very persistent in their resignations and have ignored our appeals not to resign." \n"Their deadline was at the end of last week, and as a principle the president now has to accept their resignations," Mussavi-Lari said, but added that he personally would "stay until the end." \nThe Guardian Council also squarely rejected a call from the pro-reform interior ministry for a postponement of the elections. Under the constitution, the interior ministry is charged with voting-day logistics and ballot counting. \n"The matter of postponing the election was not accepted," Ayatollah Ahmad Janati, the head of the Guardian Council, wrote in a letter to the interior ministry that was carried by state media. \n"There is no sign of insecurity, and in any case it is the duty of the interior minister to use all legal instruments to bring about security for the whole country," he wrote, arguing that even the 1980-88 Iran-Iraq war had failed to prevent elections. \nJanati also asserted that the list of approved candidates would guarantee free and fair elections. \n"For each seat in the Majlis there are 19 candidates," Janati argued, blasting the interior ministry for "behavior not in line with religious democracy." \nThe official news agency IRNA, however, has pointed out that in some areas there is only one candidate per seat -- and that the candidates are conservatives.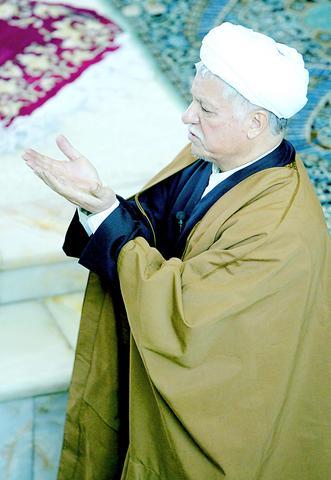 Former Iranian president Akbar Hashemi Rafsanjani leads weekly prayers at Tehran University Friday. Rafsanjani said in his sermon that both sides should exercise caution and called for a large turnout for the elections.
PHOTO: AFP
Comments will be moderated. Keep comments relevant to the article. Remarks containing abusive and obscene language, personal attacks of any kind or promotion will be removed and the user banned. Final decision will be at the discretion of the Taipei Times.