Saudi agents' deaths mar start of hajj
VIOLENCE A raid on a house of terror suspects in the Saudi capital ended in the deaths of five security agents, as 2 million pilgrims began the hajj pilgrimage in Mecca
Five Saudi security agents were killed in a shootout with terror suspects in the Saudi capital as nearly 2 million Muslims from around the world began the annual hajj pilgrimage to Mecca amid heightened security after a year of terror attacks in the kingdom. \nBombings killed 51 people at housing compounds for foreigners in 2003; Saudi and US officials have blamed the al-Qaeda network led by Osama bin Laden, a Saudi exile. \nSuspected terrorists exchanged fire with Saudi security forces raiding a house in Riyadh on Thursday, and the Interior Ministry said five Saudi agents and the father of a suspect were killed. Several suspects were detained. \nBut in Mecca, 800km to the west, pilgrims said they were too overwhelmed by the spiritual experience of the hajj to be worried about terrorism. \n"The moment you arrive here, all you feel is pure tranquility," said Umm Usama, a Palestinian from the West Bank city of Tulkarem. \nAs to the chance of a terrorist attack, Umm Usama simply shrugged, pointed to the sky, and said: "We depend on Him." \nA Libyan pilgrim, Bakr Salem, said Mecca was sacrosanct. \n"I do not think that any real Muslim dares to do anything to the pilgrims, God's guests," Salem said on Thursday. "And even if anything happened, nothing is better than dying in God's house as a martyr." \nInterior Minister Prince Nayef told reporters this week that if anybody did disrupt the hajj, "we are totally prepared to deal with it firmly." \nThousands of troops stood watch on Thursday as the pilgrims -- men dressed in identical seamless white garb and women covered except for their hands and faces -- circled the Kaaba at the Grand Mosque, Islam's holiest site, in the first ritual of the pilgrimage. \nThe Kaaba is a large cubic structure that Muslims face during their five daily prayers. Muslims consider the Kaaba as the house of God and believe it was built by Ibrahim and his son Ismail. \nIraqi pilgrim Saadi Saber said the fall of Saddam Hussein's regime constituted a new beginning for him. \n"This is the first time we come here after the fall of Saddam's regime and it feels so different -- we are so free," he said. \n"We've seen a lot of terrorism from the former regime, and we've suffered in wars. We do not fear terrorism any more," he said. "The real terrorizer has gone." \nQassem Saleh, an Indonesian businessman, said the perpetrators of terrorist attacks are not true Muslims. \n"It is not for religious reasons that they do what they do, they are after political gains," he said, "but we are not here to be involved in politics, we are here to perform a religious duty at the heart of Islam." \nAuthorities were bracing for heavy showers in Mecca over the next few days that are likely to turn Mina -- a huge tent city that comes alive only during the pilgrimage -- into a muddy, slippery camp. There were also concerns over power outages and rock slides from surrounding mountains. \nWeather reports predicted clouds and possibly rain beginning yesterday. \nSaudi authorities, however, said they were fully prepared, with more than 2,000 rescue vehicles and 118 boats at their disposal, according to Lieutenant General Saad al-Tuweijry, head of the Civil Defense. \nTo improve drainage, the municipality has widened the water passages in the nearby mountains. They have also worked to stop huge rocks from rolling down the mountain side. \nThirty hospitals and several health centers have provided more than 150 ambulances and 4,000 beds. More than US$16.5 million was spent on new health projects at this year's hajj.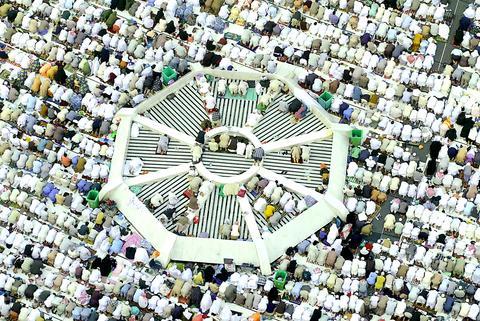 Muslims pray in the Grand Mosque in the holy city of Mecca on Thursday ahead of the hajj, which began yesterday.
PHOTO: AFP
Comments will be moderated. Keep comments relevant to the article. Remarks containing abusive and obscene language, personal attacks of any kind or promotion will be removed and the user banned. Final decision will be at the discretion of the Taipei Times.