Bird flu not dangerous, health officials say
LOW RISK Research has indicated that the bird flu spreading in South Korea might not be able to transfer to humans, but medical tests continue
The bird flu spreading in South Korea does not appear to be transmissible to humans, health authorities said yesterday.
Officials have been racing to contain the disease since 21,000 chickens died at a farm earlier this month in Umsung, 70km south of Seoul.
Sixty-three people who came in contact with the infected birds haven't shown any symptoms of the flu following the four to five day incubation period, said Kim Moon-shik, director-general of the National Institute of Health.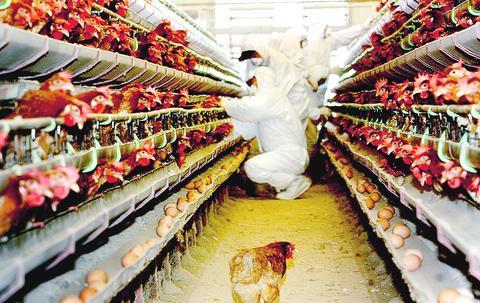 South Korean health officials wearing protective suits yesterday collect chickens to bury at a chicken farm at Umsung, south of Seoul.
PHOTO: AP
"Therefore, we suspect that the bird flu does not transfer to humans," he said after an emergency meeting convened by Prime Minister Goh Kun.
Authorities have set up a quarantine area in Umsung since the initial outbreak earlier this month, but the disease has spread to farms outside the area.
Also, test results for suspected cases in the cities of Kyongju and Naju are expected on Tuesday. Kyongju is 160km southeast of Umsung, and Naju is 230km southwest of Umsung.
Since the outbreak, authorities have culled some 170,000 ducks and chickens as a precaution after finding some birds infected with the H5N1 virus.
Authorities are investigating whether they could have the H5N1-97 strain, which crossed from chickens to humans in Hong Kong in 1997, killing six people.
South Korea exports processed chicken and duck mostly to Japan, but a ban on exports following the first suspected case of bird flu made it unlikely that any infected meat was shipped, an official from the Ministry of Agriculture and Forestry said on condition of anonymity.
Virus samples were to be sent to the US Centers for Disease Control and Prevention in Atlanta, Georgia, for definitive testing, and results were expected to take a month.
South Korean officials say the risk of transmission to humans is small because most strains of H5N1 can't cross over from birds to humans.
Less severe bird flu outbreaks have hit South Korea periodically since 1996.
Comments will be moderated. Keep comments relevant to the article. Remarks containing abusive and obscene language, personal attacks of any kind or promotion will be removed and the user banned. Final decision will be at the discretion of the Taipei Times.