Protests loom in Georgia
UNDER SIEGE President Shevardnadze continued to ignore calls for his resignation and warned of civil war as violence flared for the first time
Georgia's opposition vowed on Wednesday to stage mass demonstrations over the next few days to demand President Eduard Shevardnadze resign, while the first violent clashes erupted since a disputed parliamentary election.
Dozens of protesters were injured when some 200 opposition demonstrators clashed with around 100 Shevardnadze supporters in Bolnisi, 50km south of the ex-Soviet state's capital, Tbilisi, TV pictures showed.
The most seriously injured were taken to hospital in Tbilisi. TV showed protesters with head injuries and bruising.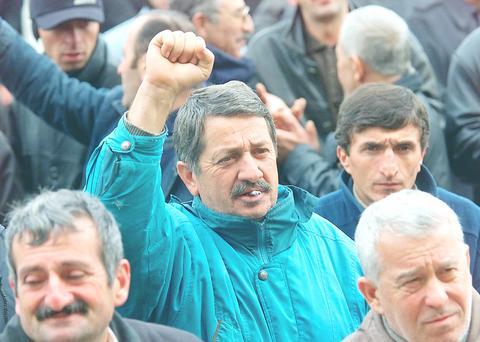 Supporters of the Revival party, who oppose calls for President Eduard Shevardnadze's resignation, hold a rally in front of the parliament in Tbilisi on Wednesday.
PHOTO: AP
Russian Foreign Minister Igor Ivanov said Moscow was worried the situation was out of control in Georgia, which has been convulsed by protests since a parliamentary election that Shevardnadze opponents say was illegal and should be held again.
In another blow to the veteran leader, the chairman of state TV resigned, saying he would not be forced to present a biased view in favor of a president "living in a vacuum."
Denunciations of electoral fraud have snowballed into calls for Shevardnadze to quit by protesters angry over eroded living standards, corruption and a failure to regain territory lost to separatists. Shevardnadze, 75, has refused to go.
The president, who helped end the Cold War as Soviet foreign minister, had expressed hope that publication of the official results, due yesterday, would bring an end to the protests. He has pledged to convene parliament soon after.
On Wednesday, he again warned people against taking part in rallies for fear of triggering a civil war in the mountainous country with a population of around 4.5 million.
"The situation is more critical than I can say," he said. "Remember my one phrase: It is a short step from civil confrontation to civil war."
Mikhail Saakashvili, the main opposition leader, said people would start travelling to Tbilisi yesterday, but many would not arrive until the weekend as they would be on foot.
He said he did not fear any loss of momentum, though protests have dwindled since Friday last week, when he staged the biggest protest seen in Georgia in a decade.
"From tomorrow we will start rallies and we will bring thousands and thousands of people to Tbilisi," he told reporters, refusing to rule out violence on the streets.
"You cannot exclude anything anymore as things are getting more and more dramatic."
Western powers and neighbors have appealed to both sides to resolve the standoff peacefully to prevent a recurrence of the violence that shattered Georgia in the early 1990s.
The country is seen as key to securing an oil pipeline from neighboring Azerbaijan to Turkey's Mediterranean coast -- an alternative to a Gulf outlet.
"The current situation in Georgia is a cause for concern for us, especially the fact that matters have got out of control," Ivanov told CNN in an interview. "We appeal to Georgian president Eduard Shevardnadze and all political forces in the country not to give in to emotion."
Shevardnadze told ministers on Wednesday he was unhappy with state TV. He said it had failed to present his case.
Zaza Shengelia, the channel's chairman, said he could not fulfill Shevardnadze's demands.
"I am very sad that the president today, as he often has, is living in a vacuum. The people around him, many reactionary people, ensure he doesn't have a genuine and clear picture of what is happening in the country," he said.
Comments will be moderated. Keep comments relevant to the article. Remarks containing abusive and obscene language, personal attacks of any kind or promotion will be removed and the user banned. Final decision will be at the discretion of the Taipei Times.