Troops, kids greet Bush in Manila
TOUR OF ASIA Fighter jets, gunboats and armored cars escorted the US president on his whirlwind visit to the Philippines, where he will spend less than half a day
Amid extraordinary security, US President George W. Bush on Saturday brought to the Philippines promises of aid to help root out al-Qaeda-linked terror groups and thanks for standing alongside US forces in Iraq.
With concerns for a possible terrorist attack high, Air Force One was escorted by a pair of US fighter jets that flew so close the pilots' faces were clearly visible from the presidential aircraft.
When Bush stepped off the plane, two girls draped a necklace of white sampaguitas, the Philippines' national flower, around his neck. Then he walked down a red carpet, past a line of military guardsmen and into his armored limousine, shipped here from Washington.
US President George W. Bush and Philippine President Gloria Arroyo greet school children following a welcoming ceremony yesterday at the Malacanang Palace in Manila.
PHOTO: AFP
There were thousands of flag-waving well wishers, and even some colorful dancers in the streets, as Bush's motorcade rode by. A helicopter flew overhead, and at one point gunboats raced alongside as the procession took him along Manila Bay to a wreath-laying ceremony.
Scheduled to spend no more than eight hours here, Bush was rushing through talks with President Gloria Macapagal Arroyo, a speech to Congress and a formal state dinner before flying on to Thailand.
As he arrived, Bush got some good news from South Korea, which announced yesterday it would send an unspecified number of additional troops to help US forces rebuild and stabilize Iraq. South Korea also said it would contribute US$200 million over the next four years.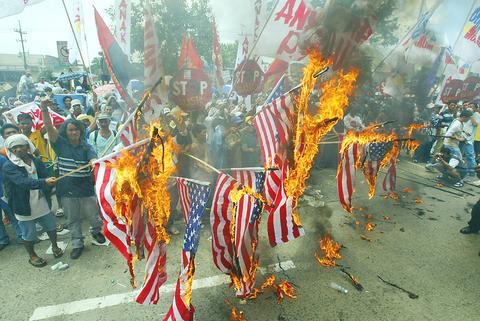 Filipino protesters burn US flags during a rally near the Philippine Congress in Manila yesterday.
PHOTO: REUTERS
In Manila, more than 1,000 university students and other activists marched to protest Bush's visit. They waved anti-US placards and streamers saying, "Ban Bush" and "Bush No. 1 terrorist."
Thousands of riot and traffic police were deployed on major thoroughfares to keep protesters away. Many downtown roads were blocked or traffic rerouted for Bush's motorcade, causing traffic jams.
In a speech to a joint session of the Philippines' Congress, the president was to salute strengthening ties between the two nations, discuss the government's war on widespread poverty across the island chain and celebrate its progress as a democracy.
The White House decision not to spend the night here, despite the evening banquet, reflected security concerns about potential terrorism activity.
It was the second stop on a six-nation tour of Asia and Australia, a mission in which Bush is seeking support in terms of both troops and cash to help stabilize postwar Iraq and relieve American troops stationed there.
He was headed next to Bangkok to attend the annual APEC forum.
The visit to Manila was widely seen as a gesture to reward Arroyo, a US-educated economist. Earlier in the year, Bush threw a state dinner at the White House for her. The Philippines has been an early backer of US policy both in Iraq and in the broader war on terrorism, but its military is poorly-equipped and the country is the midst of an economic downturn.
Comments will be moderated. Keep comments relevant to the article. Remarks containing abusive and obscene language, personal attacks of any kind or promotion will be removed and the user banned. Final decision will be at the discretion of the Taipei Times.