China shrouds first manned space flight in secrecy
The launch could happen as early as this weekend from a remote base in the Gobi Desert. China's first manned space flight would carry one taikonaut -- or as many three. It could last from hours to several days. \nOther than that, the Chinese government isn't really saying. \nAfter 11 years of planning to join the space-faring elite, China is on the brink of making history and reaping a propaganda windfall. But as the hour approaches, the communist government is staying silent about a date and other details, wary of risking the damage of public setbacks. \n"They don't want to commit themselves," said Phillip Clark, a British expert on the Chinese program. \nA successful manned launch would stand as a testament to China's economic and technical progress, winning Beijing respect abroad and -- more importantly -- approval at home. Chinese leaders long ago traded in leftist ideology for economic reform and, battered by corruption scandals, have used such flag-waving appeals to nationalism to bind the nation together. \nThe launch would come 42 years after Soviet cosmonaut Yuri Gagarin became the first human to orbit the Earth. But China would still be only the third country capable of manned space flight, vaulting it ahead of Japan and European countries, which have only unmanned programs. \nAnd China would be accomplishing something that even the US, with its space shuttle fleet grounded following the Columbia disaster, can't do right now. \nStill, some Chinese complain privately that the program is a waste of money in a society where the average person makes about US$700 a year. \nChina hasn't released the identities of its first astronauts, 12 military pilots who, according to state media, were picked from among 2,000 applicants. Newspapers say all are about 30 years old and 170cm tall. \nThey have been dubbed taikonauts (pronounced locally Ty-Koo-Nawts). In Chinese, they are yuhangyuan, or travelers of the universe. \nAt least one of them will go up before the end of October, state media say. \nAnd the Beijing-backed Hong Kong newspaper Ta Kung Pao said it would happen sometime after this Friday. That could coincide with a meeting of the Communist Party's ruling inner circle that convenes Saturday, allowing President Hu Jintao and other leaders to be shown on state television talking with the crew in orbit. \nThe Shenzhou, or "Divine Vessel," capsule is based on Russia's Soyuz vessel, with extensive modifications. China bought Russian space suits and a life support system to study, though officials stress that everything sent up will be made in China. \nLike other details, the cost of the military-linked program is secret but is believed to total at least US$1 billion -- equal to the annual government budget of a smaller Chinese province. \nThe 8-tonne Shenzhou is even bigger than Soyuz, which can seat three astronauts. And Chinese reports say specialists have created a menu of 20 space meals -- enough for a week. \nBut Clark, the British specialist, said China probably will keep the first flight simple, with one pilot sent up for less than a day. \nIt isn't even clear yet whether the government will alert its own public before the launch. State media said two years ago that the astronauts might be identified in advance -- possibly to dispel rumors that a fatal accident would be covered up. \n"I wouldn't be surprised if 10 minutes before the launch, state television cuts without warning to a live shot of the rocket on the pad," Clark said. \nChina has had a rocketry program since the 1950s, and missiles are one of its strongest military technologies. It does a bustling business sending up satellites for foreign clients aboard its giant Long March rockets -- a modified version of which is to carry the Shenzhou capsule. \nBeijing has nurtured the dream of manned space flight since at least the early 1970s, when its first program was scrapped during the upheaval of the 1966 to 1976 Cultural Revolution. The current effort began in 1992 under the code name Project 921. \nFour unmanned Shenzhou capsules have been launched, orbiting the Earth for up to a week and landing by parachute in the northern grasslands of China's Inner Mongolia region. \nForeign experts said Shenzhou 3 suffered a hard landing and might have been damaged. But Chinese officials said the fourth test flight went off without a hitch.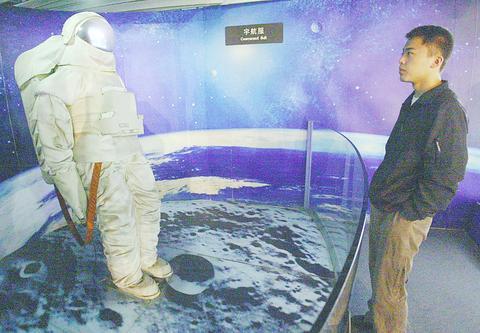 A visitor to the Beijing Science Museum looks at a space suit yesterday. China has declared that its first manned space flight is due to take place this month but remains secretive about the precise details.
PHOTO: REUTERS
Comments will be moderated. Keep comments relevant to the article. Remarks containing abusive and obscene language, personal attacks of any kind or promotion will be removed and the user banned. Final decision will be at the discretion of the Taipei Times.