Kremlin's choice wins in Chechnya
A `REAL' LEADER Moscow's choice for Chechnyan president, Ahmad Kadyrov, was the strongest candidate -- after other candidates were muscled out by Russia
The Kremlin's hand-picked candidate for president of Chechnya, Ahmad Kadyrov, has secured victory, the election commission chief said yesterday. His stage-managed election followed a campaign consisting of threats, violence and manipulation. \nSpeaking as the ballots were still being counted from the vote on Sunday, the commission chief, Abdul-Karim Arsakhanov, said Kadyrov had already gained more than half the votes, the Interfax news agency reported. \nIn an interview on Saturday, Russian President Vladimir V. Putin said the election was part of an attempt to reach a political settlement after four years of bitter warfare. \nKadyrov, a Muslim religious leader who had earlier fought against the Russians, had been selected by Moscow to be the acting president three years ago. \nIn the vote on Sunday, he had faced six little-known challengers who had been restricted in any attempts to hold campaigns. His strongest opponents were earlier pressured by Moscow to withdraw from the race after private polls indicated that Kadyrov was extremely unpopular. \nHis election posters were virtually the only ones to be seen on the ruined buildings of Grozny. In many of them he was shown shaking hands with Putin. \nSurrounded by armed guards at his home on Sunday, Kadyrov told reporters that after his formal election as president he would be "a real leader." \n"People will no longer be able to say as they sometimes do that I am Putin's puppet," he said. \nReporters in Grozny, the capital, said on Sunday that turnout at polling places seemed light. But officials in Grozny said their final figures would show a high turnout. \nRussian human rights groups declined to participate as election observers, calling the process a farce. Most international bodies cited concerns over safety in declining to send observers. \nThousands of soldiers and tens of thousands of civilians have been killed and the city of Grozny has mostly been destroyed as the Russians have battled separatist rebels. Open warfare has mostly been replaced now by guerrilla fighting, ambushes, kidnappings, torture, assassinations, land mines and terrorist attacks. \nSecurity was reported to be extremely tight on voting day, with 15,000 soldiers sent to guard 425 polling places. The main streets of Grozny were closed to traffic during the weekend and all trucks were banned from the city to prevent terrorist bombings. \nRussian troops deployed in Chechnya played a dual role as voters, with 30,000 soldiers included among 454,000 eligible voters. \nIn his interview Saturday with editors of The New York Times, Putin emphasized that the elections "are but one component of the political settlement there." \n"Now we are preparing the steps to follow," which are to include a parliamentary election, he said. \n"But, of course, it would be naive to think that the situation in Chechnya is close to complete normalization," he said. "One has to remember in what circumstances the people of Chechnya have been living for almost 10 years, in circumstances of total violence." \nIn fighting separatist rebels in the Muslim republic, Putin said, Russia is holding a line against Islamic radicalism that could spread to neighboring areas. \n"For all of us, including the United States, that would mean a further strengthening of fundamentalism in the Islamic world," he said. \n"Therefore it serves United States interests to shore up Russia's efforts to maintain stability in this area," he said, adding: "We have been witnessing understanding of this problem from the United States president."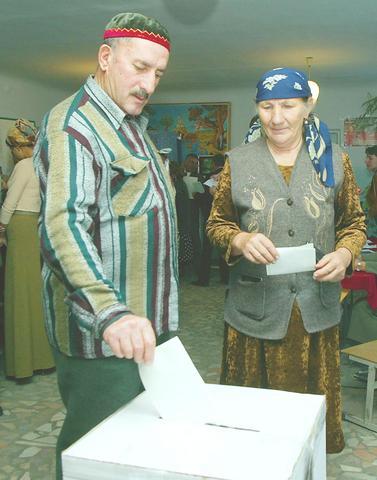 A Chechen man casts his ballot at a polling station in the village of Alpatovo, about 100km from Chechen capital Grozny, on Sunday.
PHOTO: REUTERS
Comments will be moderated. Keep comments relevant to the article. Remarks containing abusive and obscene language, personal attacks of any kind or promotion will be removed and the user banned. Final decision will be at the discretion of the Taipei Times.