Schwarzenegger leads recall election race, outlines first 100 days in power
Buoyed by a new poll that has him leading all recall candidates less than a week before the election, Arnold Schwarzenegger outlined what the first 100 days of a Schwarzenegger administration would look like.
"We are ready to take office," he told a crowd of about 400 supporters on Wednesday. "We are ready to take action. We are ready to return California to the people."
The Austrian-born actor repeated a number of pledges made earlier in his campaign. On his first day in office, he said, he would repeal the tripling of the state car tax, then move to have the state budget audited and call a special session of the legislature to deal with spending cuts.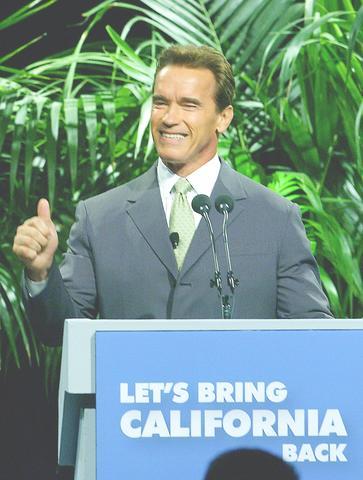 Republican gubernatorial candidate Arnold Schwarzenegger smiles and gives a thumbs up to supporters during a rally held in Sacramento, California on Wednesday.
PHOTO: AP
He also intends to seek a percentage of Indian casino revenue and renegotiate state employee union contracts, even though the new state budget signed by Governor Gray Davis already calls for US$1.1 billion in savings from renegotiated labor contracts or layoffs.
Davis campaign spokesman Peter Ragone said it was a mistake for Schwarzenegger to "start measuring the drapes in the offices of the Capitol."
"It's profoundly disrespectful to the people who haven't yet expressed themselves and haven't yet had their voices heard in this election to start naming their transition team or whatever they're up to," he said.
Schwarzenegger's address came as Davis appeared Wednesday with retired General Wesley Clark, a presidential candidate and the latest high-profile Democrat to visit California in support of the governor. He later appeared with his newest convert, independent Arianna Huffington, who dropped out of the race on Tuesday but promised to work with Davis to defeat the recall and keep Schwarzenegger out of office.
At the event with Clark outside a firehouse museum, Davis used his most direct language yet to cast the recall as a choice between himself and Schwarzenegger.
"We have to speak to independents and Democrats in blunt terms. They have one choice. Unite to defeat this recall and stop Mr. Schwarzenegger or face the prospect that Mr. Schwarzenegger will be governor," he said.
On Tuesday, a new Los Angeles Times poll showed Schwarzenegger had support from 40 percent of likely voters. Democrat Lieutenant Governor Bustamante had 32 percent, and Republican state Senator Tom McClintock 15 percent.
The poll also showed the effort to oust Davis succeeding, 56 percent to 42 percent.
That marked a shift from a Sept. 12 Times poll that had support for the recall stalling, with 50 percent of voters supporting it and 47 percent opposed.
The earlier poll also had Bustamante leading with 30 percent to Schwarzenegger's 25 percent. McClintock had 18 percent.
Schwarzenegger's surge came after an aggressive performance at last week's debate and the withdrawal of former baseball commissioner Peter Ueberroth, another moderate Republican. Schwarzenegger also has aired millions of dollars of ads over the past several weeks.
Comments will be moderated. Keep comments relevant to the article. Remarks containing abusive and obscene language, personal attacks of any kind or promotion will be removed and the user banned. Final decision will be at the discretion of the Taipei Times.