First lady Laura Bush goes to Paris to kiss and make up after Gulf war
For White House planners, the image had to be picture perfect: the first lady, the American flag and the Eiffel Tower all in the same photo frame. \nSo when Laura Bush raised the American flag on Monday to signal the return of the US to UNESCO after a 19-year boycott, there was nothing subtle about the symbols. \nHer five-day trip to Paris and Moscow is seen as part of a campaign to dispel criticism of her husband's administration as unilateralist as it seeks to win international support with a new UN resolution for more money and troops for the American occupation of Iraq. \nIn her 25-minute address inside the headquarters of the UN Educational, Scientific and Cultural Organization, Bush proclaimed that UNESCO could "help achieve peace by spreading the values that will help defeat terror and lead to a better and safer world: education, tolerance, respect for human life and respect for each other's differences." \nPart of her speech focused on what she characterized as the administration's achievements in postwar Afghanistan and Iraq, including reopening schools. "As the civilized world stands against terror, UNESCO's work can make an enormous difference," she said. \nThe Reagan administration withdrew from UNESCO in 1984, charging that it had become a forum for spreading anti-American propaganda and was chronically mismanaged and corrupt. The agency lost the US contribution -- a quarter of its budget. \nKoichiro Matsuura, the soft-spoken Japanese diplomat who has been UNESCO's director general since November 1999, has shaken up and slimmed down the bureaucracy, finally convincing Washington that UNESCO was worthy of rejoining. \nAfter her speech, in the courtyard, Bush stood ramrod straight, her hand on her heart, as the mezzo-soprano Susan Graham sang The Star-Spangled Banner and the American flag was raised to join the flags of the 189 other members. \nBut Bush did not face the flag as the anthem was sung; instead, she stood perpendicular to it, enabling photographers to capture her in profile, with the flag and the Eiffel Tower behind. The scene was carefully planned for days by a White House advance team, much to the amusement of longtime UNESCO employees. \nBush, on her third solo trip abroad as first lady, also tried to burnish America's image in the eyes of France and to assure her hosts of her country's friendship. \n"We can have disagreements and remain friends," she said in an interview with France 3 television that was shown on Monday. "Our attachment is very emotional." \nRecalling that last year she and the president visited the graves of American soldiers killed on the Normandy beaches in World War II, she described the friendship between France and the US as "intimate and intense at the same time." \nEarly in the day, President Jacques Chirac welcomed Bush for a 30-minute meeting at Elysee Palace. Not one to be outdone by a photo opportunity, he kissed her hand in front of cameramen and photographers. \nIt was just a year ago that President Bush announced to the UN General Assembly that the United States would rejoin UNESCO. \nBut for Representative Tom Lantos, the ranking Democrat on the House International Relations Committee and a member of the visiting American delegation, it was a congressional, not an administration, initiative that brought America back. \n"This is sort of my baby," he boasted in a telephone interview, saying that in May 2001 he and Representative Jim Leach, successfully pushed for passage of an amendment to an authorization bill directing Bush to rejoin and authorizing US$60 million for America's assessment. \n"I explained to the administration that at a time when it was being accused of being unilateral, nothing could be more helpful in helping its image than rejoining." \nFor re-entry into the club, which will take effect on Oct. 1, the United States has pledged to pay a one-time deposit to the capital fund of US$5 million and US$82 million of the total US$577 million budget for next year and 2004. \nBush's delegation included Louise V. Oliver, the Republican fund-raiser nominated by the administration to be ambassador to UNESCO, and some of Bush's best friends from Texas, including Adair Margo, an El Paso art dealer who heads the White House committee on the arts and humanities. Graham, the singer, is from Bush's hometown of Midland, Texas, and their mothers attend the same Sunday school.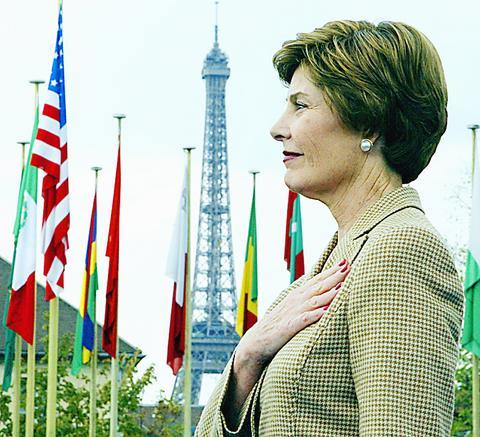 PHOTO: REUTERS
Comments will be moderated. Keep comments relevant to the article. Remarks containing abusive and obscene language, personal attacks of any kind or promotion will be removed and the user banned. Final decision will be at the discretion of the Taipei Times.