Australia to send navy to Solomons
INTERVENTION The ship `Manoora' will arrive as the advance guard of what will be the largest military deployment in the South Pacific since World War II
An Australian navy command ship will sail for the lawless and near-bankrupt Solomon Islands on Monday as the advance guard of a multi-national intervention force, Australia said yesterday. \n"The [navy ship] Manoora is being deployed to ensure it can be in place for the arrival by air of police and military elements that the government may decide to send to the Solomons," Defense Minister Robert Hill said yesterday. \nHMAS Manoora would leave the northern Australian city of Townsville on Monday for the Solomons capital Honiara, he said in a statement. Honiara is 1,750km northwest of Townsville. \nThe vessel will act as a command and logistics center for the force and will also provide medical services. \nThe 2,000-strong force of police, troops and civilian administrators, the largest military deployment in the South Pacific since World War II, has been unanimously backed by the Solomons parliament and has widespread support among the nation of 450,000 people. \nHundreds of people have died in fighting between rival ethnic militias from Guadalcanal island and neighboring Malaita since 1998 and the country has slowly spiralled toward anarchy and bankruptcy since a police-backed coup in June 2000. \nLocal media reported that the government of Prime Allan Kema-keza and police commissioner William Morrell had begun a public education program to inform Solomon Islanders about the intervention force. \n"The people of the Solomon Islands have nothing to fear from this intervention," Morrell, a Briton, told Solomon Islands Broadcasting Corp radio. \nThe rest of the force, including soldiers and police from New Zealand, Fiji, Papua New Guinea, Samoa and Tonga is due to begin gathering in Townsville before being airlifted to Honiara. \nA spokesman for the Fiji armed forces said some of the 123 experienced peacekeepers Fiji has committed to the force would leave for Townsville later yesterday. New Zealand will contribute 105 soldiers, 35 police and four helicopters to the force. \nThe Solomons parliament passed a bill on Thursday legalizing the deployment of the force. The legislation includes the right to use reasonable force, an amnesty for handing in illegal weapons and immunity from prosecution for members of the contingent. \nThe foreign troops and police will seek to restore order in Honiara, where armed gangs roam at will, before moving to take control of outlying areas, including the Weathercoast stronghold of renegade warlord Harold Keke southwest of Honiara on Guadalcanal. \n"Restoring law and order to the Solomon Islands is essentially a policing task," Hill said. \nAustralia expects the military component of up to 500 troops, sent to protect police and administrators, would only be in the troubled country for a few months at most.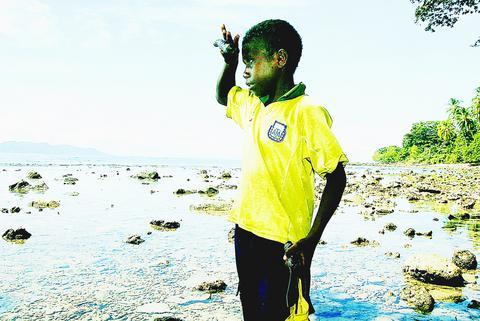 Luke Telos, age five, looks for sea cucumbers to sell at the Visale settlement in the remote western region of Guadalcanal, yesterday, after recent ethnic violence forced many impoverished Solomon Islanders to return to subsistence living. Australia will lead a 2,000-strong intervention force in a bid to restore law and order in the troubled state.
PHOTO: AFP
Comments will be moderated. Keep comments relevant to the article. Remarks containing abusive and obscene language, personal attacks of any kind or promotion will be removed and the user banned. Final decision will be at the discretion of the Taipei Times.