An end to violence? Perspectives differ
MIDEAST TRUCE As phase one of the road map to peace got under way, Israel said it wants militants arrested and some Israelis admitted the occupation was a failure
Israelis and Palestinians may have found a face-saving formula that gives all parties a way out of 33 exhausting months of violence. Militant groups declare a truce, Israel agrees to return some land, and the Palestinian Authority promises to hold up its end by trying to prevent attacks against Israel.
With rigorous US chaperoning, restraint by all sides, and a healthy dose of luck, Sunday's steps forward might disentangle the warring parties. In a best-case scenario the fighting ends for good and a Palestinian state emerges by 2005, as the internationally backed "road map" peace plan sets out to do.
But terror attacks by renegades or Israeli military strikes could rekindle the violence in a flash.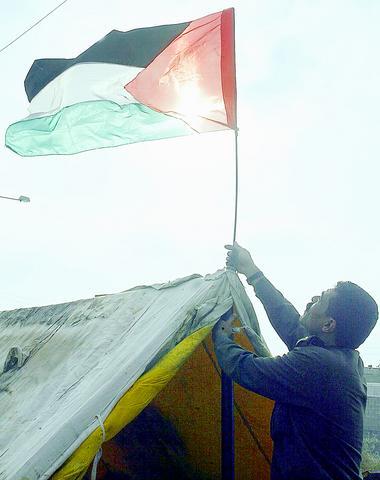 A member of the Palestinian security forces raises a national flag over his tent at a new Palestinian checkpoint on the Salaheddin main road near the Israeli settlement of Netzarim, north of Gaza City yesterday. The Israeli army removed all major checkpoints in the Gaza Strip early in the day, allowing free movement for Palestinians along the trans-Gaza north-south highway for the first time in more than two years.
PHOTO: AFP
Israel reacted coldly to Sunday's decision by Hamas and Islamic Jihad to stop attacks for three months. Yasser Arafat's Fatah group joined the truce later, declaring it would halt all military operations for six months. Negotiators have said the timeframe could be extended if Israel ends its military operations and releases prisoners.
Israeli troops and tanks began pulling out of northern Gaza after sundown Sunday, military sources said, in keeping with an agreement to hand responsibility for security in Gaza over to the Palestinians.
For its part, Israel wants more than a truce -- it wants the militants disarmed and arrested so they cannot resume violence in the future -- a demand the Palestinian Authority hasn't agreed to and the militants bitterly reject.
Still, an elegant way out of the deadlock may be found in the end, because the players have a serious stake in the cease-fire's success.
For Israelis and their prime minister, Ariel Sharon, the road map offers a way out of a nightmare which saw their public places targeted almost at will by suicide bombers and gunmen.
An end to violence would move the Palestinians toward the state they have longed for. Without this it's unlikely the politically feeble Mahmoud Abbas can survive as Palestinian prime minister, which would be embarrassing for the Bush administration, at whose prodding Abbas was appointed to the new post several months ago.
US diplomatic credibility is also on the line in a broader sense after US President George W. Bush personally launched the road map at a June 4 Mideast summit. He has since dispatched his secretary of state and national security adviser to the region in a high-profile, high-stakes effort to hammer it home.
US National Security Adviser Condoleezza Rice was in town for the cease-fire announcement -- and for the conclusion of a deal on transferring parts of Gaza back to Palestinian security control. The deal could be expanded within days to the West Bank town of Bethlehem.
The high-level supervision underscored how for Bush, peace -- or at least calm -- is a key element in his vision for a changed Middle East, alongside the victories in Afghanistan and Iraq and the war on the al-Qaida terrorist organization. With Israeli-Palestinian trust at rock-bottom, his continued vigilance will likely be required.
Just over 1,000 days of conflict have taken a terrible toll. More than 2,400 Palestinians and 800 Israelis have died. The Palestinians' nascent economy and government infrastructure, born of the 1990s autonomy accords, lie in ruins.
And in Israel more than a tenth of the workforce is jobless, poverty is spreading to the middle class and a once-promising tourism industry has been devastated.
But as in all conflicts where there is no clear winner, all sides can claim a measure of victory.
Israelis showed resolve, and today are offering, if anything, less than in September 2000 when the fighting erupted. Then-premier Ehud Barak proposed a Palestinian state in all of Gaza, more than 90 percent of the West Bank and part of Jerusalem, on condition the Palestinians drop demands that refugees and their descendants be allowed to return to Israel. Sharon is unlikely to match that.
Palestinians can say they have made Israelis understand that their presence in the West Bank and Gaza is a losing proposition. Polls show a solid majority now wants to be rid of the burden of the territories.
And even Sharon, architect of Jewish settlement in the areas and bitter opponent of past peace deals, supports a Palestinian state, albeit on less land than the Palestinians demand.
"Honesty demands we admit that [Palestinian] terrorism showed results," wrote columnist Nahum Barnea in Yediot Ahronot newspaper. "It made the Israelis be sick of the occupation."
Under the road map, Israel would gradually withdraw from Palestinian autonomous zones occupied during the fighting.
A Palestinian state with temporary borders, probably on somewhat more land than the autonomy controls, is to come as early as the start of next year. And a final settlement by 2005 would deal with final borders and the thorny issues of sharing Jerusalem and resolving the refugee issue.
Before any of that, of course, the enterprise could easily collapse.
Renegade militants in the West Bank -- where Palestinian control is minimal -- could continue attacks. Israeli security officials acknowledge that even if the Palestinians could clamp down in Gaza, the West Bank is in chaos, and catching militants can be a matter of chance. Harsh Israeli reactions would mean nothing has changed.
The disagreement over whether and how to disarm the militant groups might not be resolved.
And even if calm prevails for a time, skeptics see the truce as a bid by the militants to regroup at a time when US and Israeli pressure on them is approaching irresistible.
But optimists see a ray of light: ordinary people are so tired of the carnage that public opinion might force everyone to hesitate before endangering the truce.
"Both societies are desperate for a period of quiet, to rebuild what was destroyed," Barnea wrote.
Comments will be moderated. Keep comments relevant to the article. Remarks containing abusive and obscene language, personal attacks of any kind or promotion will be removed and the user banned. Final decision will be at the discretion of the Taipei Times.