PM levels jump 13-fold while vacuuming
DUST UP: Researchers have found that levels of PM10 and PM2.5 rise considerably while using a vacuum cleaner in a closed room, and children are particularly at risk
The concentration of dust in a closed space could increase up to 13-fold when using a vacuum cleaner, according to a study released on Thursday by the Taiwan Indoor Environment Quality Management Association.
In the study, researchers measured levels of PM10 — particulate matter measuring 10 micrometers or smaller — and PM2.5 during a 10-minute session using an automated vacuum cleaner and in a separate test of five minutes with a traditional vacuum cleaner, Fu Jen Catholic University Department of Public Health associate professor Lin Yu-wen (林瑜雯) said.
The experiments, performed in a 15 ping (49.6m2) room with the doors and windows shut and with no air conditioner or fan operating, measured particulate matter concentrations at 45cm and 75cm above the floor, or about the height of a crawling or walking toddler, she said.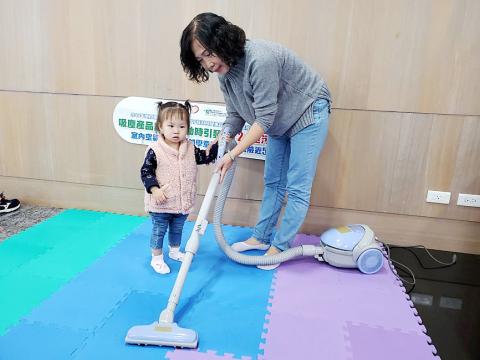 A woman demonstrates how to use a vacuum cleaner when a child is present, a situation experts say should be avoided, at a Taiwan Society of Indoor Environmental Quality news conference in Taipei on Thursday.
Photo: Lin Hui-chin, Taipei Times
The study found that the concentration of particulate matter at 45cm increased by up to six times the background value while the automated vacuum was working and up to 13 times while a traditional unit was being used, she said.
At 75cm, the concentration increased by 2.8 times and 3.7 times during the use of an automated or traditional vacuum cleaners respectively, she added.
While using a vacuum cleaner, people should wear an anti-dust mask and avoid standing behind its exhaust, she said, adding that it is best to avoid vacuuming when children are nearby.
Children should not enter a room that has been vacuumed until 90 minutes have passed, which is about how long it takes for particulate matter to settle, she said.
As part of the study, researchers also beat a mattress with a stick to mimic the action of a child jumping on a bed or of a person making a bed, and found that doing so increased concentrations of bacteria, fungi and endotoxin by between 6.3 times and 87.9 times background levels, the study showed.
The concentration of endotoxin was the highest increase they measured, according to the study.
Changes in endotoxin concentrations are a marker of indoor air quality and can cause fever or even shock, Kaohsiung Medical University Department of Public Health professor Chen Pei-shih (陳培詩) said.
Exposure to high concentrations of endotoxins can increase children's risk of asthma or allergies 4.8 times over exposure to normal levels, she said.
Bed sheets and duvet covers should be washed and changed frequently, and an air purifier could also help maintain a clean environment, she added.
Comments will be moderated. Keep comments relevant to the article. Remarks containing abusive and obscene language, personal attacks of any kind or promotion will be removed and the user banned. Final decision will be at the discretion of the Taipei Times.