KMT assets information sought
CALLING ON PUBLIC: The Ill-gotten Assets Committee said that it uploaded videos to Facebook to help explain its importance and the goals of transitional justice
The Cabinet's Ill-gotten Party Assets Settlement Committee yesterday urged people to relay information to it if they have any evidence of the Chinese Nationalist Party (KMT) holding on to illicit overseas assets.
Informants would receive a monetary reward if the evidence they provide has been corroborated, committee spokeswoman Shih Chin-fang (施錦芳) said.
According to committee chairman Lin Feng-jeng, the KMT had accrued close to NT$100 billion (US$3.18 billion) in illicit and potentially illicit assets that had been confiscated or frozen by the government.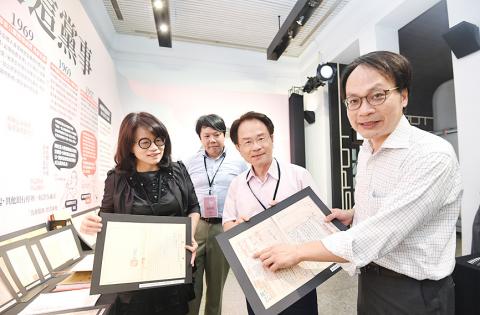 Academia Historica president Chen Yi-shen, second right, Ill-gotten Party Assets Settlement Committee Chairman Lin Feng-jeng, right, and others hold documents at an exhibition about the history of Chinese Nationalist Party (KMT) assets at the SPOT-Taipei Film House yesterday.
Photo: Liu Hsin-de, Taipei Times
Asked whether the committee would seek to seize potentially ill-gotten KMT assets that were registered under the names of individuals in Japan, South Korea, the US or Vietnam, Lin said that while it is reasonable to assume that the party has transferred some illicit assets overseas, the government must first prove that such items exist before it could take action.
The hardest part is to acquire the evidence, he added.
The KMT has listed two overseas properties, the TTD Building in Tokyo and the Palasia Hotel Palau, under the Central Investment Co, which is a certified KMT affiliate, Shih said.
The committee has rejected the KMT's request to sell the two properties on the grounds that the nation would profit from rent by leasing out the building in Tokyo and the hotel would serve diplomatic purposes, given that Palau is a diplomatic ally, she said.
The committee is to mark its third anniversary on Saturday next week.
To mark the occasion, it is hosting an exhibition at the SPOT-Taipei Film House yesterday and today.
The exhibition focuses on land and buildings that the committee says were illegally obtained by the KMT during the nation's authoritarian era.
To help the public gain a better understanding of the topic of illicit party assets, committee members have prepared videos, which have been uploaded to the committee's Facebook page, launched earlier this year, Shih said.
Hopefully, with the help of the Internet, young people would take more interest in the government's handling of ill-gotten party assets and the pursuit of transitional justice, she said.
Comments will be moderated. Keep comments relevant to the article. Remarks containing abusive and obscene language, personal attacks of any kind or promotion will be removed and the user banned. Final decision will be at the discretion of the Taipei Times.