INTERVIEW: Professor uncovers translation injustices
Sharon Lai, writer and professor of translation at National Taiwan Normal University, discusses in an interview with Chinese-language 'Liberty Times' (the sister newspaper of the 'Taipei Times') staff reporter Lan Tsu-wei how transitional justice is also important in the field of translation, and how translations in Taiwan and China differ as their historical paths diverge
Liberty Times (LT): How did you go from approaching translation as an academic to approaching it as a "detective," as you say you do in your book The Office of Translation Detective Work (翻譯偵探事務所)?
Sharon Lai (賴慈芸): In 1994, while I was a master's student, I had to pair up with a classmate to write about the history of translation in Taiwan. While I was going through research material I discovered that many classics, such as Jane Eyre and Wuthering Heights, were poorly translated. It was clearly the same translator, but the names on each translated book were different. It was like a black hole that concealed limitless secrets. I thought this was really interesting. Why had no one discovered it or discussed it before?
Part of the reason is related to politics. After 1949, there were some translators who never came to Taiwan, but stayed in China. A famous translator named Fu Donghua (傅東華), who translated Gone With the Wind, is an example of this. His translations that ended up in Taiwan came to be attributed to a different translator. Fu was later killed during China's Cultural Revolution.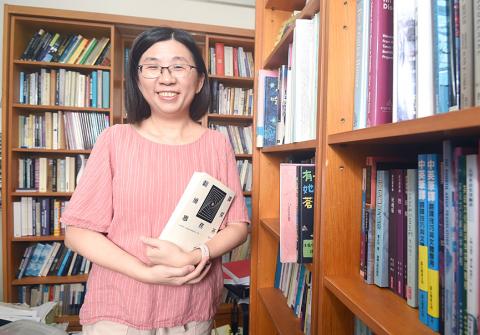 Sharon Lai, a writer and professor of translation at National Taiwan Normal University, is pictured in her office on July 25.
Photo: Liao Chen-huei, Taipei Times
For a time his translated works were met with unfortunate treatment in Taiwan and China. I have one student whose research is focused on the translation of Gone With the Wind. There are more than 50 versions of the translated text that all copied Fu's translation, but do not attribute the work to him. Behind these anonymous translations is a history filled with suffering and sadness.
However, those translators who came to Taiwan also became embroiled in politics. For example, Li Lieh-wen (黎烈文), who translated The Red and the Black and An Iceland Fisherman, was monitored and controlled due to his past associations with leftist writers.
Also, in the early years, there was no concept of copyright. For a time romance novels were popular, and publishers would split a novel into two or three parts, hiring a different translator for each part. That way they could get it to market faster.
Later on the profits were too low and there was a sharp decline in the publication of [translated] romance novels. This indirectly facilitated the rise of locally written romance novels.
LT: While researching translation, you have come across many rare or out-of-print books. How would you describe your encounters with these old books?
Lai: Everything was because of interest. When I encounter these books at second-hand bookstores, I often think: "How did this book end up here?" Some old books are signed with the owner's purchase date, such as "1949, purchased in Shanghai," making the book's history apparent.
These books originally came overseas to Taiwan with educated young people. After they grew old and passed away, these books were sold to second-hand bookstores, waiting for new owners to take possession of them.
Later, some small publishers took these books, got rid of their beginnings and ends, and started zero-cost businesses by pirating and printing these translated works. This was the norm among publishers at the time.
In the early days, Vista Publishing founder Shen Teng-en (沈登恩) was the epitome of this type of publisher. However, he was not the initiator, but rather very carefully rearranged the layout of these translated works that were sloppily printed on poor-quality paper in the early days.
He also edited out outdated sentences, in the end enlivening them into The Collection of World Literature (世界文學全集). Published in 1978, this collection of books sold extremely well and allowed Vista to occupy an important place in Taiwanese translation history.
When I began solving the translation mystery, the first collection I examined was Vista's translation, because many translators in the collection used pseudonyms, or as in the case of Crime and Punishment, when Vista reprinted the book, it said it was translated by Keng Chi-chih (耿濟之), but in reality it was not.
Later, Keng Chi-chih's grandson Chen Yi (陳逸) learned that Crime and Punishment had been translated by his grandfather. Believing his grandfather's posthumous work had been unearthed, he told Vista he wanted to republish the edition.
As a result, the publisher added the words "originally translated by Keng Chi-chih, retranslated by Chen Yi" to the cover. It looked like a nice addition, but unfortunately it was not true. That translation by "Keng Chi-chih" was actually an edition by Shanghai [publisher] Qiming's Wang Bingkun (汪炳焜).
In investigating these translations that were incorrectly handled due to the special circumstances of the Martial Law era, I hope there are publishers who are willing to step up and admit to [these actions], change all of the catalogs and restore the truth. After all, it has been more than 30 years since the end of martial law, yet the catalog in the National Central Library has not been corrected.
The result of these mistakes, one after another, is that problems appear in the research of Taiwanese and foreign academics or they are misled. From the standpoint of a library's professional ethics, if a book is copied, fake or written using someone else's name, the library should not even accept it. However, it would also be unrealistic to throw away all of these books that were once circulated.
This is a historical consequence of the Martial Law period. As long as public libraries are willing to consider our research and change their catalogs, would that not be transitional justice for the publishing industry?
LT: Many translators were intellectuals and academics who were persecuted during the White Terror era. Do you think transitional justice should also bring to light the backgrounds of these victimized intellectuals?
Lai: These intellectuals were subject to political injustice, but there is nothing wrong with their translations themselves, because they could still be credited using their own names. However, I discovered that the owners of four of Taiwan's earliest translation agencies had all been in jail. This is a rare cultural phenomenon, even when one looks at global translation circles.
I interviewed these owners, and they all said that because they could not find jobs after getting out of jail, they had no choice but to go into translation, because translation is a relatively easy career path. Trading words for money, they could take on jobs without being concerned whether the employer wanted to hire a political criminal.
For example, President Translation Service Group International owner Square Fang (方振淵) is a benshengren [本省人, people who came to Taiwan from China before World War II], focusing on Japanese translation. International Translation Service's Hu Tzu-tan (胡子丹) is a waishengren [外省人, people who fled from China with the Chinese Nationalist Party (KMT) after the war], specializing in English translation. Hu's publishing company even invited many of his prison mates from Green Island (綠島) to translate together.
These Green Island victims once contributed greatly to the monthly publication Shih Sui (拾穗). First published in 1950, Shih Sui was a magazine focusing primarily on translation. Back then it was highly valued by young cultural and artistic people. A student of mine went to Kaohsiung to search for and read the original material, and discovered that toward the end many translation manuscripts were mailed from Green Island.
LT: What do you have coming up with regards to translation?
Lai: I am on the cusp of promoting a collection of theses on the history of translation in Taiwan.
This collection is intended to highlight the distinctly different cultural genes of Taiwan and China through the lens of Taiwan's history of translation.
First, in 1895, Taiwan started off on a path different from that of China. Although the two shared a close relationship, after that they were very different. To cite an example, a contemporary history of translation written in China would be divided into the late Qing Dynasty, the May Fourth Movement, the 1930s, the post-war period, and then it would have a chapter on translations done in Taiwan and overseas.
However, Taiwan never experienced the May Fourth Movement. For Taiwan, the important periods are the late Qing Dynasty, the Japanese colonial period and then the arrival of the KMT government. The mother tongue of most Taiwanese is Hoklo or Hakka, which is different from the Beijing-style Mandarin that prevails in China.
For example, Aesop's Fables have been translated into Hoklo, and one of the tales, "Mice in Council," was translated as "a conference of birds and mice" (鳥鼠會議). Another tale, "The Emperor's New Clothes," which was translated in Taiwan before it was translated in China, was titled "the good clothes of a certain nobleman" (某侯好衣) in the Taiwanese translation.
Following the arrival of the KMT, mainlanders who experienced the May Fourth Movement began accounting for more than half of Taiwan's publishers, although they constitute a small portion of the population. It was the same with writers and screenwriters. As Taiwan had not experienced the May Fourth Movement and the New Culture Movement, the translations they produced were different from those made by translators in China.
Research on this is of greater value to Taiwan.
Translated by staff writers William Hetherington and Sherry Hsiao
Comments will be moderated. Keep comments relevant to the article. Remarks containing abusive and obscene language, personal attacks of any kind or promotion will be removed and the user banned. Final decision will be at the discretion of the Taipei Times.