Wild black-winged stilt reaches the rare old age of 22
A black-winged stilt seen at Sicao Wildlife Refuge in Taijiang National Park was found to have been ringed and released 22 years ago by National Kun Shan University professor Weng Yi-tsung (翁義聰), making it ancient by black-winged stilt standards.
Black-winged stilts usually appear in coastal wetlands in pairs or small groups, and are known for their long legs.
The bird is considered one of the three treasures of Tainan's wetlands, along with the black-faced spoonbill and the pied avocet.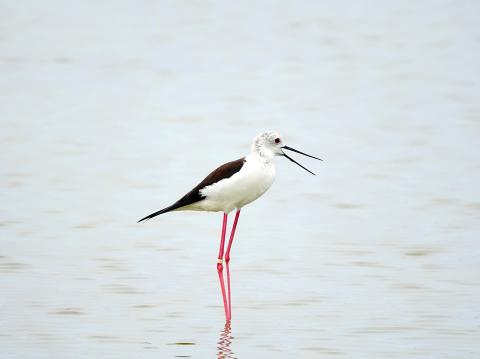 A black-winged stilt with a gray ring on its right leg stands in the Sihcao Wildlife Refuge wetlands in Tainan on Thursday.
Photo courtesy of Chen Yu-yi from the Wild Bird Society of Tainan
Wild Bird Society of Tainan member Chen Yu-yi (陳玉怡) said that she photographed two older black-winged stilts and three youngsters while taking her child to a bird center in the area.
She took hurried photographs and only discovered that one of the black-winged stilts had a gray ring on it after she went over her photos at home, Chen said.
Chen managed to track down Weng and ascertained that this particular black-winged stilt was the one he released near North Gate in Tainan in 1997.
The bird was ringed six to eight weeks after it was born, so it is about 22 years old, Weng said.
About 2,000 black-winged stilts were ringed in southern Taiwan from 1997 to 2004, he said.
"The oldest one should be a black-winged stilt released in 1992 by the society," Weng said, adding that the bird was last seen in the Aogu Wetlands in 2017.
The average lifespan of wild black-winged stilts is about 10, Chen said, adding that they can live up 20 years.
Chen said Weng told her that there was a black-winged stilt in South Korea that was 18, adding that it was truly a surprise to see a 22-year-old black-winged stilt in Taiwan.
Comments will be moderated. Keep comments relevant to the article. Remarks containing abusive and obscene language, personal attacks of any kind or promotion will be removed and the user banned. Final decision will be at the discretion of the Taipei Times.