Eric Chu unveils 'three Chinese' campaign plan
'COPROSPERITY SPHERE': Chu vowed to negotiate a declaration for peace with Beijing and support the creation of a free-trade zone with China if elected
Former New Taipei City mayor Eric Chu (朱立倫) yesterday said that his presidential platform would include a "Chinese economic coprosperity sphere," while blasting President Tsai Ing-wen's (蔡英文) policies as "ideological."
The Chinese Nationalist Party (KMT) presidential hopeful made the remarks at a media event, where he announced his "three Chinese" platform of "firmly supporting the Republic of China's democratic Constitution," "expressing the uniqueness of Chinese culture" and "creating a Chinese economic coprosperity sphere."
The Tsai administration has shown no proclivity for planning, coordination or public communication, Chu said, adding that he would give the president a perfect score in "politicking, anti-China sentiment and ideology," but zero for the economy, the nation's diplomatic profile or national security.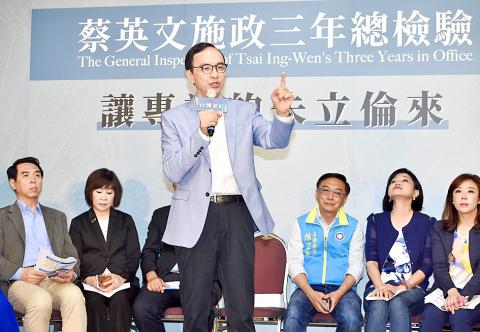 Former New Taipei City mayor Eric Chu, center, and Chinese Nationalist Party (KMT) legislators hold a news conference in Taipei yesterday to review President Tsai Ing-wen's performance.
Photo: Peter Lo, Taipei Times
People should not worry about the market confusing Taiwanese products with Chinese goods, Chu said, urging people to "have more confidence in Taiwan."
If elected, he would seek to negotiate a joint declaration for peace with Beijing and would support creating a free-trade zone with China, Chu said.
In response to a foreign reporter's question about whether he wants to stop Taiwan's cooperation with the US, a policy for which Tsai has received praise, Chu said that he does not approve of Tsai's approach to developing the nation's international profile by confronting Beijing.
However, he added that he remains committed to maintaining friendly ties with the US.
There is no contradiction between being friendly with the US, having ties with China and maintaining regional peace, all of which he would achieve, Chu said, describing his platform as a "triple win."
The reporter then requested clarification after noting that the US and China are displaying signs of strategic and trade contradictions.
Taiwan should not take sides in the US-China trade conflict, because 40 percent of Taiwanese exports are bound for China, Chu said, adding that Taiwan can be friendly toward China without harming its political or diplomatic relations with the US.
Asked to explain the peace declaration, Chu said that his proposal is an expression of mutual hope and the international community would not consider it to be the same as a peace agreement.
Comments will be moderated. Keep comments relevant to the article. Remarks containing abusive and obscene language, personal attacks of any kind or promotion will be removed and the user banned. Final decision will be at the discretion of the Taipei Times.